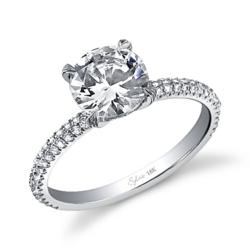 Sometimes what women want is celebrity driven since so many of the trends originate from Hollywood's most sought after stars.
New York, NY (PRWEB) February 01, 2012
Recently engaged celebrities like Anne Hathaway, Kate Hudson, Drew Barrymore, Britney Spears and Natalie Portman have helped to shine a spotlight on diamond engagement ring trends. The Sylvie Collection, designed by Sylvie Levine, boasts the latest trends that can be customized by future betrothed couples. Sylvie Collection rings can be purchased with any size, shape or cut center-stone, helping to keep prices in check for couples shopping for this all-important purchase.
Texas based Sylvie Levine prides herself on being the premier female bridal jewelry designer who creates with women's needs and desires in mind. "Sometimes what women want is celebrity driven since so many of the trends originate from Hollywood's most sought after stars," says Levine.
The latest celebrity engagement ring trends are: halo settings, the "come-back" cushion cut, the classic and timeless emerald cut as well as updated round brilliant diamond rings. Halo-set engagement rings like Natalie Portman's are arguably the hottest engagement ring setting for 2012. Sylvie's version has two rows of diamonds to create the halo, as well as diamonds adorning the band priced at less than $8,500 for a one carat center-stone. The cushion cut, which was used exclusively during the early 1800's for engagement rings, is fashionable again. Model/actor Molly Simms' sported hers this September at her nuptials. Sylvie's standout modern version is a one carat cushion cut engagement ring priced at $8,100.
Rock-star loving Kate Hudson opted for a conservative and classic platinum-set engagement ring featuring a nine carat emerald cut diamond center stone. The ring is estimated by experts to be worth a cool $200,000—where an emerald cut in a one carat size from Sylvie would be approximately $10,000. Recently engaged whimsical star Drew Barrymore surprised many when she became betrothed with an emerald cut as well. Lastly, the most popular cut – the round brilliant – gets a makeover just like its celebrity owner Britney Spears. Spears, marrying for the second time, opted for a round brilliant diamond ring with dainty and feminine pavé-set diamonds along the band and prongs.
For future brides who channel celebrity style but don't have the bank-roll, the Sylvie Collection is a landmark. All of the pieces in the Sylvie Collection are made with precious metals, diamonds and gemstones, with 13 different collections to date and more than a thousand engagement ring and wedding band styles to offer. Sylvie Collection is available at fine jewelers nationwide. Visit SylvieCollection.com.
# # #