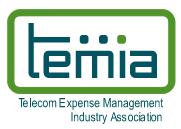 TEMIA's Alliance Partner Showcase provides an online forum for Solutions Providers to meet the challenges of a rapidly evolving market, learn about new capabilities, and form valuable partnerships. Register at http://tiny.cc/8aozb.
Naperville, IL (PRWEB) February 01, 2012
The Telecom Expense Management Industry Association (TEMIA), the authoritative voice for Telecom Expense Management (TEM) Wireless Expense Management (WEM) and Mobile Device Management MDM) Solutions Providers, will host a webcast for firms that are seeking to extend their TEM capabilities. This webcast will feature over 15 different members of TEMIA presenting their offerings to potential business partners. The range of offerings include international capabilities, rate and tariff libraries, Telecom Expense Management (TEM) software, wireless mobility and MDM capabilities, mobile software solutions, offshore back office TEM services, Call Accounting, professional services and more.
The webcast is Thursday, February 9 at 10:45 AM Eastern Standard Time. Presidents of companies and business development managers that want to evaluate new TEM capabilities should attend. TEMIA members will explain key benefits and features that make their offerings attractive for channel partners. Register online to attend this webcast.
Michael Yokay, director of sales and client services for CCMI, explains, "As a TEMIA member, we are better positioned to collaborate with other industry leaders. CCMI's essential rate databases and online data intelligence solutions couple with the service offerings of other TEMIA members to create powerful, money-saving solutions for all of our clients and partners."
Chris Lee, managing director of Invoice IQ, stated, "Our mission is to enhance the business capabilities of TEM providers – that is why we joined TEMIA. Our invoice translation service normalizes telecom invoice data, from any service provider for all telecom services, into one standard universal format – dramatically reducing invoice management costs. This allows TEM firms to focus on differentiating their software and services."
Greg McIntyre CEO of The Tellennium Group added, "our winning proposition offers a service that saves clients a large percentage of their telecom spend - at no net cost to them. Also, Tellennium's agents are paid recurring commissions, and they benefit from client retention rates, that we believe, are among the highest in the industry."
Many members joined TEMIA for networking opportunities and ways to expand their capabilities. TEM has grown to become much more than expense management. It is the convergence of wireline, mobile services, device management, security and new applications that call for financial management and use of advanced reporting with robust business analytics. The Alliance Partner Showcase offers an online forum to meet the challenges of a rapidly evolving industry with opportunities to learn about offerings and form business alliances. Solutions Providers can visit the TEMIA website to learn more, and they should register online at http://tiny.cc/8aozb.
About TEMIA
The largest Telecom Expense Management service providers founded, the Telecom Expense Management Industry Association, in 2006. Since that time, TEMIA has grown to 39 members with international corporate headquarters managing over $61 billion of telecom and data spend.
TEMIA's mission is to raise awareness and knowledge of the values and benefits of Telecom Expense Management TEM, Wireless Expense Management WEM, and Mobile Device Management MDM solutions, to improve the quality and value of these solutions through the development and promotion of open industry standards, and industry knowledge among Solutions Providers, business partners, telecom service providers, and enterprise clients.
For more information about TEMIA, visit http://www.temia.org.
###