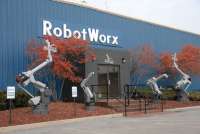 We strive to be leaders in our industry.
Marion, OH (PRWEB) February 01, 2012
January 31, 2012 marks the date of the launch of the new RobotWorx website, robots.com. After several months of planning and testing, the central Ohio industrial robot integrator made the new website live.
The website's designers and web team hope that the new design will allow customers to more easily find the robot arm, robotic system, or parts that they are looking for.
Marketing manager Stefani Wanner helped coordinate the website redesign and is "very excited about the launch of our new robots.com site." Wanner cites an "improved design" and "friendly layout" as reasons why the new website "will enhance our customers' experience on our website."
In addition to accessibility, the new website aims to provide robotic education through application descriptions, blog updates, educational videos, feature articles, and other content and multimedia.
"Whether you are clueless with robotics or a professional in the area, there is something of value for you," says Wanner.
Monthly blog posts update readers with the latest news about both RobotWorx and general industry news. An ever-growing number of videos explain various robotic functions, robotic applications, and robot arms. Industry articles further explain technical aspects of the robotics industry.
A redesign of other RobotWorx websites, including the used robots website and welding robots website, is being planned and developed, as well.
Wanner sums up the redesigned website plans saying "Other industrial robot integrators' websites are constantly improving, and we strive to be leaders in our industry when it comes to our content and website. We look forward to seeing how everyone enjoys the new websites."
About RobotWorx: As an authorized industrial robot integrator for FANUC, Motoman, and KUKA, RobotWorx automates many industrial applications for many customers every year. In business since 1992, RobotWorx buys and sells new and refurbished industrial robot arms, workcells, and robotic systems.
###