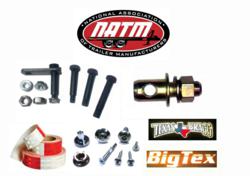 Fort Worth, Texas (PRWEB) February 02, 2012
Trailer manufacturers and trailer parts providers of all types are preparing to exhibit at this year's 2012 NATM Convention. This year's Expo will be held at the popular Fort Worth Convention Center. This facility is well equipped to provide a pleasant and enthralling venue right in the heart of Fort Worth, Texas. Early registration will begin online and will start in person on Tuesday, February 7th at 7pm in the Fort Worth Convention Center.
AFT Fasteners supports this year's format of enhanced workshops that will continue through the week and provide excellent information on such topics as "Business Operations", which will include "The Art of Execution" and "Canadian Transport". Other workshops will include more technical topics such as "Structural Adhesive Solutions for Trailer Fabrication", "Transportation Logistics", "Galvanic Corrosion" and a great presentation by Ron Black, of The Mentor Group on "Business to Business Negotiating Skills: Creating Profitable, Long-term Business Solutions".
Along with workshops there will, of course, be the main topic of this year's NATM Convention: vendors bringing their products to market and making contacts who share a common interest in building safe, efficient and profitable trailers. AFT Fasteners is a Texas based fastener manufacturing, importing, distribution, plating and industrial services company "All-in-One", offering turn-key cost effective solutions to our customers. We supply high-quality standard, non-standard and specialty fasteners and hardware products. We serve our customers with sales and distribution centers throughout the United States, and this allows us to provide expedited domestic or global sourcing. Please contact our professional sales staff at info@aft-corp.com or call (877) 844-8595 for information on how AFT Fasteners can provide your business with successful trailer manufacturing solutions.
###