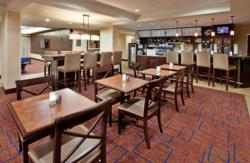 "It's high tech and high touch meet high style – a true living space with flexibility to work, relax, eat, drink, and socialize as you like." - Jeff Blackman, Executive Vice President
Dallas, Texas (PRWEB) February 02, 2012
Business and leisure travelers alike can appreciate the dramatic transformation recently completed at the Marriott Courtyard Abilene hotel. Acquired by management group Texas Western Hospitality (TWH) in October 2011, the hotel reopened with an entirely new face in early January.
The property's reinvention by TWH included complete renovation of all guest rooms and public spaces, including new furnishings, fixtures, carpet, wall coverings, window treatments, and more. The renovated lobby features the all-new Courtyard Bistro, with healthful breakfast, lunch, and dinner choices; a full service bar open nightly; and specialty beverages featuring Starbucks coffee.
The transformed meeting space has been expanded from 1,080 to 1,600 square feet and opens to an inviting outdoor patio, making it a casually sophisticated venue for events in Abilene, TX. The indoor pool has been replaced by an outdoor heated pool area, complete with a Texas-style barbecue pit for guest use.
The lobby renovation comes as part of the Marriott Courtyard "Refreshing Business" initiative, combining functionality, aesthetics, technology, and the right mix of services to offer guests greater control of their environment.
"The Refreshing Business approach goes far beyond the technology and amenities previously expected by Courtyard guests," said Jeff Blackman, Executive Vice President for Texas Western Hospitality. "It's high tech and high touch meet high style – a true living space with flexibility to work, relax, eat, drink, and socialize as you like."
The hotel's prime location, near the Mall of Abilene and within walking distance to many restaurants, continues to be a draw for business and leisure travelers. Combined with the property's metamorphosis and TWH's management expertise, it's a formula for success.
Texas Western Hospitality, the management arm of Western International, is a lodging management company with more than 30 years of successful history in hotel development and operations. Headquartered in Dallas, Texas, TWH manages many of the finest brands, including Marriott and Hilton. TWH has grown to become one of the most respected lodging management companies in the United States, operating 53 properties with more than 6,000 guest rooms in seven states. Book rooms at http://www.marriott.com/abicy.
###