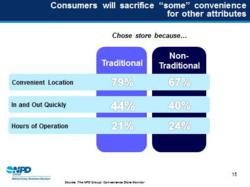 "Convenience stores need to glean as much insight as they can from the preferences that consumers are exhibiting. When they do that, they can differentiate themselves from the competition by providing offerings most relevant to their consumers."
Houston, Texas (PRWEB) February 01, 2012
There was a time when convenience stores (c-stores) served all the needs of consumers looking for a convenient location, a quick grab-and-go purchase, and long hours of operation, but increasingly other retail outlets are filling those needs and other consumer preferences, according to convenience store research by The NPD Group, a leading market research company.
NPD's Convenience Store Monitor, which tracks the consumer purchasing behavior of more than 51,000 c-store shoppers in the U.S., finds that for the quarter ending December 2011, non-traditional retail outlets, like grocery/mass market retailers, dollar stores, and drug stores, represented 9.3 percent of c-store traffic, a two percent increase from the same quarter in 2010. C-store traffic overall was down -2 percent for the quarter from same quarter last year.
The reasons that consumers choose to shop at a c-store —convenient location, in-and-out-quickly and hours of operation — are generally now the same as their reasons for shopping at non-traditional c-store outlets. Seventy-nine percent of consumers who visit a c-store did so because of its convenient location, and it was the location of a non-traditional store that led 67 percent of consumers to choose it, according to the Convenience Store Monitor. The ability to get in-and-out of the store quickly factored into the decision of 44 percent of consumers to shop at a c-store, and for the same reason 40 percent of consumers visited a non-traditional retail outlet. Longer hours of operation, once the unique selling proposition of convenience stores, is the reason that 21 percent of consumers shopped at a c-store; but with more retail outlets offering longer hours of operation, particularly mass market grocers and drug stores, 24 percent of consumers report it as a reason they shopped at non-traditional c-stores.
With needs for convenience being met by traditional and non-traditional outlets, non-traditional outlets also win convenience consumers' visits on price, selection, quality, and value, attributes that may not typically be associated with c-stores.
"There is no doubt that convenience stores are facing stiff competition from non-traditional retail outlets," says David Portalatin, convenience store channel analyst for NPD. "Convenience stores need to glean as much insight as they can from the preferences that consumers are exhibiting. When they do that, they can differentiate themselves from the competition by providing offerings most relevant to their consumers."
About The NPD Group, Inc.
The NPD Group is the leading provider of reliable and comprehensive consumer and retail information for a wide range of industries. Today, more than 2,000 manufacturers, retailers, and service companies rely on NPD to help them drive critical business decisions at the global, national, and local market levels. NPD helps our clients to identify new business opportunities and guide product development, marketing, sales, merchandising, and other functions. Information is available for the following industry sectors: automotive, beauty, entertainment, fashion, food, home and office, sports, technology, toys, video games, and wireless. For more information, contact us, visit http://www.npd.com/, or follow us on Twitter at https://twitter.com/npdgroup.
###