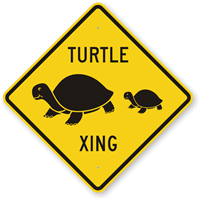 Brooklyn, NY (PRWEB) February 01, 2012
RoadTrafficSigns.com has launched a new line of turtle signs to warn drivers about the slow-moving critters. Not every turtle is a teenaged mutant, and therefore someone has to watch out for turtles on the road. Both serious and amusing, this line of signs carries messages that are protective and fun.
Turtle Signs are a new branch of animal crossing signs that protect road-bound creatures. Surprisingly, according to ABCNews.com, turtle crossing has been a topical issue. In June of 2011, about 150 turtles crossed a runway at John F. Kennedy Airport in New York City. The migration actually happens every year at JFK, which is built on the edge of Jamaica Bay and a federally protected park. In late June to early July, the turtles migrate from the bay toward the beach to lay eggs. Inevitably, the flights were delayed due to these crossings. Signs are definitely beneficial when turtles start to move. No one wants to be responsible for crushing reptiles that cannot run away from oncoming vehicles.
The turtle signs on RoadTrafficSigns are clearly marked with pictures and slogans. Messages read "Turtle Crossing" or show pictures of a turtle or several turtles. In addition, the site features Supplemental Turtle Crossing Signs to show when and for how long crossings will occur. These signs are useful for directing drivers. RoadTrafficSigns provides an assortment of signs, but if they are not enough, shoppers can customize their own in seconds. Enter in the number of miles that applies to the turtle crossing situation.
The signs are printed with 3M ink that will last through all weather. These signs will last for at least fifteen years to come. Turtle signs contain new retro-reflective prisms that guarantee the signs reflect the right amount of light from the right angle. The durable aluminum composition guarantees resilience, outlasts other thin-gauge signs, and won't rust.
Save the turtles with these special signs. For more information on turtle signs and other animal crossing signs, visit http://www.roadtrafficsigns.com/Crossing-Signs/Turtle-Crossing-Signs.aspx.
About RoadTrafficSigns.com
RoadTrafficSigns is the leading online distributor of MUTCD traffic signs. The signs are made with long-lasting 3M ink and offered in multiple reflective grades. Customers can create their own signs using convenient customization wizards.
About SmartSign
SmartSign is one of America's fastest growing e-commerce companies and parent of http://www.MySafetySign.com, http://www.MyParkingSign.com, as well as over 50 other sites.
Traditionally, signs with the right message have been hard-to-find, hard-to-design and hard-to-order. By positioning "Signs as Solutions", SmartSign has taken an entirely different approach. Through highly targeted, yet content-rich and authoritative sites, the company provides specific solutions to specific problems – such as keeping your road safe and manageable. "We take the agony out of finding and ordering your perfect sign" – Blair Brewster, SmartSign founder. Couple this with fast and free shipping, 3M warrantied signs that outlast fast-fading ink jet signs from competitors, the web's largest range of designs and a best price guarantee, it is easy to see why SmartSign has grown so quickly.
###