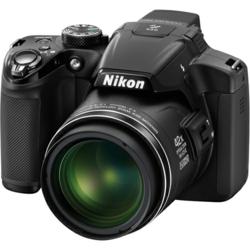 BH Photo is excited to share the release of the newest Nikon P510 digital camera
NYC, NY (PRWEB) February 01, 2012
B&H Photo will be one of the first retailers to stock the new Nikon CoolPix digital cameras. This marquee camera is both extremely functional, as well as aesthetically pleasing and features many of the bells and whistles found in the more expensive cameras by Nikon.
The Nikon Coolpix P510 Digital Camera offers a massive telephoto zoom range, starting quite wide at 24mm and telescoping 42x to 1000mm (35mm equivalent focal lengths). This range will enable one to shoot comfortably in tight indoor spaces and capture wide landscapes, while giving you the long reach to capture wildlife, sporting events, and much more. Throw in its special Smart Portrait mode and Easy Panorama (360° & 180°) modes, and the P510 makes a breeze of pretty much every type of shooting.
That powerful Nikkor lens is backed by a 16.1 Mp sensor that will capture all the detail that the glass can collect. Its undeniable versatility makes the P510 a bridge between standard point-and-shoot models and higher-end interchangeable-lens models. With its comfortable side grip and tilting 3" LCD monitor, the camera allows you to operate confidently and comfortably handheld and at low and high angles.
With its massive telephoto reach, one will be well-served capturing aerial and terrestrial beasts from afar – and with the P510's integrated GPS one will be able to record a shooting location; the camera's geo-tagging function serves as something of an automated travelogue. If still photography's not enough for expedition, the camera captures Full HD 1920 x 1080p video with stereo audio.
Back-Illuminated CMOS Image Sensor Helps Realize High Image Quality
With 16.1 effective megapixels of pure imaging power, the camera captures the high-resolution images one desires. Continuous shooting and compositing capabilities of the backside-illumination CMOS image sensor optimize performance when shooting at night or in dark indoor environments, delivering beautiful results and reproducing the finest details.
Read More on the NEW Nikon COOLPIX Camera announcements
42x Optical Zoom & Highly Advanced VR Image Stabilization
The 42x zoom Nikkor ED glass lens for the Coolpix P510 features phenomenal focal range coverage of 24mm wide-angle to 1000mm super-telephoto (35mm format equivalent). At that focal length, Vibration Reduction (VR) image-stabilization technology certainly comes in handy, minimizing the blur caused by camera shake and delivering sharp images. Advanced VR iscritical to aid in achieving consistently sharp results, particularly when taking advantageof the super-zoom or for macro photography
GPS Geo-Tagging & Logging Function
A high-performance GPS system records longitude & latitude location data for each shot, and you can also log your movement even when you're not taking pictures. Add a new dimension to photographic fun with geo-tagging! Track your progress as you explore, and record the location of that great image. There's also an electronic compass to record the camera's orientation, so you can later view the direction (along with location data) for each shot
High-Speed Continuous Shooting Helps Capture All the Action
The Coolpix P510 keeps you ahead of the action with high-speed shooting options. High-speed continuous shooting enables rapid capturing at 7 fps (approx.) for full-resolution (4608 x 3456) images (up to five continuous shots). Other high-speed modes include Sports continuous mode (approx. 60 fps / 120 fps) and the Pre-shooting cache
High Sensitivity
High ISO capability helps capture subjects beautifully in low light, without compromising natural light or requiring long exposure time. By enabling the selection of faster shutter speeds, it also makes it easier to capture fast-moving subjects with greater clarity
Optimized Controls & Designed for Efficient Handling
Adding to the flexibility of the vari-angle screen, the camera's handgrip is designed to help minimize camera shake. A side zoom control stabilizes handling
3D Photography
The 3D imaging capability makes it easy to create composite images that achieve realistic playback on 3D-capable TVs and computers
20 Scene Modes
20 easy-to-use Scene modes, including Scene Auto Selector, which automatically optimizes camera setting for best results
Motion Detection
Motion detection automatically selects a faster shutter speed and higher ISO (light sensitivity) setting to compensate for subject movement or camera shake
NIKKOR lenses have long met the exacting standards of top professional photographers. And they continue to demonstrate Nikon's total commitment to craftsmanship and reliability in today's world of digital photography.
EXPEED C2 continues to expand the possibilities of photography with improved levels of high image quality, fine detail and processing speed. Engineered to deliver optimal performance on each COOLPIX model, the latest evolution of Nikon's renowned digital image processing engine helps ensure beautiful photographs of every scene you shoot.
About B&H Photo Video
As the world's largest source of photography, video and audio equipment, B&H Photo-Video is known worldwide for their attentive, knowledgeable sales force, and excellent customer service, including fast, reliable shipping. Visitors to the website can access a variety of enlightening articles and educational videos. B&H has been satisfying customers worldwide for over 35 years.
###