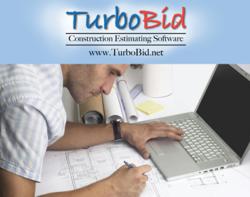 TurboPricer dramatically speeds up the estimating process by connecting TurboBid to our customers selected vendor pricing data in real time
Plainfield, IL (PRWEB) February 02, 2012
TurboBid, one of the nation's leading providers of electrical and plumbing estimating software, has released TurboPricer, an exclusive material pricing service used to update material prices to reflect current vendor pricing as well as average market pricing. http://www.TurboBid.net
"TurboPricer dramatically speeds up the estimating process by connecting TurboBid to our customers selected vendor pricing data in real time.", stated Bill Ruffner, TurboBid's founder and CEO. "When an estimate is completed, simply click on the TurboPricer button in TurboBid and a list containing the items in the estimate is electronically sent to each of the selected vendors. The list is instantly matched to the vendor's pricing file and within seconds the items in TurboBid are updated to reflect the current vendor pricing."
After each update, an exception list is generated. If the selected vendor does not carry an item in the estimate, the exception report will display a list of similar items that the supply house does carry. Detailed information is provided to allow alternate items to be quickly added to TurboBid's database. After the alternate items have been added, a mass substitution may be performed that will switch out the old item with the new item in every applicable assembly in TurboBid's entire database.
A detailed list that displays alternates for every item in the estimate is also available. This provides an excellent way to easily expand the item database to include additional material choices for the selected vendor. The vendor pricing is displayed for the original items, as well as the alternates, so that the user can quickly identify the vendors lowest cost items.
Material can also be updated to reflect average market pricing. This is a great way to update the material prices in the event that a vendor is not available for the update service.
Features

Actual pricing from your preferred vendors in real time
Listing of alternate items for each vendor
Update material to reflect the average market price
Pricing returned in seconds and applied to the estimate
Over 2,000 distributor branch locations
Benefits

Increased accuracy and faster bid preparation
Improved productivity and profitability
More accurate and timely bids
Access to supplier's pricing 24 / 7
Competitive advantage
Enhanced relationships with suppliers
About TurboBid:
TurboBid is an electrical and plumbing estimating software program that is designed to help all electrical, plumbing and low voltage contractors win more profitable business by providing them with a systematic process to identify all costs, maximize crew productivity and improve their professional image.
Bill Ruffner, in addition to being TurboBid's founder and CEO, is also an electrical contractor with over 25 years of experience. Ruffner states, "Since its original inception in 2001, TurboBid has evolved into an award winning estimating solution that works great for estimating all types of electrical and plumbing projects. It's powerful yet easy to use plus it automatically generates great bid packages. In fact, TurboBid is highly recommended by industry expert Mike Holt and is classified as the "Best Buy" of all major estimating programs on his website."
Mike Holt invited Ruffner to be a panelist and represent the software industry in his 2012 estimating training DVD package. Holt has released a bonus video from the DVD package that discusses the merits of estimating software. To view the video, go to http://youtu.be/pqFQaJOQ3ds.
TurboBid employs a unique format that allows users to easily identify and account for all possible labor and material costs. Additionally, material and assemblies are automatically adjusted to reflect the correct labor unit based on the type of construction as well as any unique construction factors for various locations within the building.
Geof Gratny, an electrical contractor in Montana said, "I've used TurboBid to win jobs including small remodels, service work, large residential, medium commercial and several midsized industrial projects. I really enjoy knowing exactly what my costs are, which enables me to negotiate more confidently."
Gratny concludes, "I'm convinced that my success in this tight economic time is largely due to being able to produce a professional looking bid package, be accurate with the numbers and know my boundaries for pricing. I'm very happy with the support and flexibility that TurboBid provides."
Those interested in learning more about TurboBid can visit their website at http://www.TurboBid.net.
###