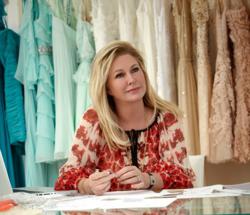 My mother and I used to make doll clothes
Beverly Hills, CA (PRWEB) February 01, 2012
Kathy Hilton, of the hotelier family, boasts a vibrant and accomplished career in retail, fashion, as a public persona, actress, and a mother. Her most recent venture is a ready-to-wear dress collection—stocked by luxury department stores and high-end boutiques including Saks Fifth Avenue and Neiman Marcus. The line hits stores next month and Haute Living concurrently published an exclusive feature highlighting the process of bringing her collection to life.
"My mother and I used to make doll clothes," Hilton said. "I'm a doll collector and still have my collection. [Creating a dress line] is a dream. So when I was approached it was like 'this is the most exciting thing in the world,'" said Hilton of the beginning stages of her dress collection.
"I've been blessed and able to travel the world, to see and wear many different designer dresses," Hilton said. "But then I started to think that especially with the economy, people are just not in the mood and you don't have to go out and spend thousands of dollars [to] look nice. I really felt that there was a real niche for beautiful cocktail dresses that wouldn't break the bank," said Hilton in her exclusive interview with Haute Living. As such, the collection's cocktail dresses retail from $350-$495, with gowns ringing in below $1000.
Perhaps most interestingly, Hilton explained to Haute Living that the dresses are tailored more towards individuals with timeless, classic, and feminine style than to a certain age or demographic.
"I wanted to make something beautiful that women all over the world can wear," Hilton said. "Starting with my nieces—I have dresses in the line that reflect my nieces and their friends, dresses for my daughters, and for women my age and older."
Aside from the broad appeal of the collection, Hilton also highlights the value and practicality of her line. "The thing about the collection really is that now is the time to buy something timeless, and you can wear these dresses even after season," Hilton said.
As the matriarch of a world-famous family, Haute Living also discussed Hilton's experiences as a mother and wife with her. Hilton opened up about keeping her family together and keeping her children grounded amidst such incredible success.
Haute Living Magazine is a national luxury lifestyle magazine published in four markets—New York, Miami, Los Angeles, and San Francisco. Haute Living Magazine features the top entrepreneurs, businesspeople, and notables in each market. Haute Living Magazine also highlights the best in luxury consumer goods, culinary hot spots and events. Haute Living recently redesigned its website and re-launched its Haute Time (http://www.hautetime.com) and Haute 100 (http://www.haute100.com) websites for state-of-the-art user experiences.
For more information, please visit: http://www.hauteliving.com.
###