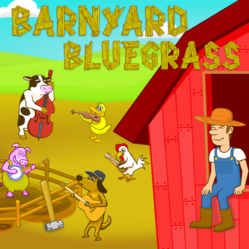 Real music and real learning - all wrapped up in a cartoon hoedown. There simply nothing like it on the App Store...period.
Portland, OR (PRWEB) February 02, 2012
Are you tired of hearing the same torturous music from your child's favorite app? Barnyard Bluegrass, the new app from Whynoceros, is here to help. This lovable band of animated farm animals comes equipped with banjos, fiddles, basses, mandolins and guitars and they aren't afraid to use them. Offering seven complete songs - with accompanying read along lyrics - children can enjoy fantastic on-demand music using an interface simple enough for a toddler. Perhaps more importantly, parents may find themselves asking to turn the volume up, rather than down.
As if that wasn't enough, there are three other areas of the app where visitors can delve deeper into the genre and make music of their own. Users can select an instrument and play it using a simple one-finger controller, read about the instruments and hear samples, or head to the farmer's porch and jam with the entire band. Each area offers a different perspective on the music and gives young learners plenty of room to explore and create.
Tapping into children's existing love of song, Barnyard Bluegrass offers "yee-haw worthy" renditions of classics like Old MacDonald, Turkey in the Straw, and Hole in the Bucket.
For a more traditional taste of the style, there are several ageless bluegrass standards, namely: Pig in a Pen, Blue Railroad Train, Cluck Old Hen, and Nine Pound Hammer. To bring this much loved genre to life, we called upon Astrograss, a fixture in both the New York City Bluegrass and Kids Music Scene, to perform and record just those tunes that would best connect to young users. All music was recorded and mixed at Inner Harbor Studios, NYC and was mastered specifically for Apple devices.
Barnyard Bluegrass is available in both LITE and FULL ($1.99) versions and is compatible with iPhone, iPad, and iPod touch.
Early Praise for Barnyard Bluegrass:

"What more can I say? Barnyard Bluegrass is a must-download app." - Lunch Box Reviews
"I wasn't sure what to expect from Barnyard Bluegrass and I really like what I found. If you're looking for a musical app that breaks away from the piano then this app definitely deserves a look." - theiPhoneMom.com
Device Requirements:

iPhone 3GS, iPhone 4, iPhone 4S, iPod touch (3rd generation), iPod touch (4th generation) and iPad
Requires iOS 4.0 or later
19.7 MB
Pricing and Availability:
Barnyard Bluegrass Pocket Edition 1.0 is $1.99 USD (or equivalent amount in other currencies) and available worldwide exclusively through the App Store in the Education category.
Related Links:
Whynoceros: http://WhynocerosApps.com
Purchase and Download (iPad): http://itunes.apple.com/app/barnyard-bluegrass/id483068154
Purchase and Download (iPhone): http://itunes.apple.com/app/barnyard-bluegrass-pocket/id487532943
YouTube Video: http://www.youtube.com/watch?v=8KLqv5ZZtF0
App Icon: http://whynoceros.squarespace.com/gallery/barnyard-bluegrass/13000651
About Whynoceros?
Whynoceros? is dedicated to bringing unique experiences to thinkers and daydreamers of all ages. Focusing on music, education, stories, and puzzles, Whynoceros leverages the engagement and interactivity of mobile apps to deliver enduring original content. Whynoceros has released the 5-star-rated storybook app, Flight of the Pamplemousse, Barnyard Bluegrass, as well as the Tao Te Ching Alarm Clock. The highly addictive puzzle game, Einstein's Stones, and the beautifully recorded Chopin Alarm Clock, are slated for release in February. Copyright (C) 2012 Whynoceros. All Rights Reserved. Apple, the Apple logo, iPhone, iPod and iPad are registered trademarks of Apple Inc. in the U.S. and/or other countries.
whynoceros(at)gmail(dot)com
###