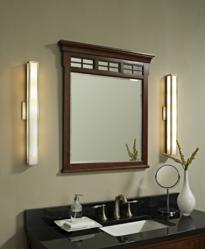 (PRWEB) February 02, 2012
Lightology.com, the largest online retailer of contemporary lighting is offering an exclusive sale on bathroom lighting from February 1-29, 2012 on top brands like Edge Lighting, Alico and Norwell.
These brands offer a wide variety of vanity wall sconces, bath bars and lighted mirrors that offer the ideal light brightness and color for any bathroom task.
Lighted Mirrors
Lighted Mirrors, now 15% off, are a great way to ensure your face is properly lit because they eliminate shadows from every angle. Many fluorescent mirrors, like Edge Lighting's Plaza, are available in dimmable versions to help change the mood for different occasions — you will be astonished at how often you use it.
Bath Bars
A Bath Bar above a mirror is a great place to start when properly lighting a bathroom for grooming, shaving and applying makeup. Alico offers bath bars, like the Pandora, Pannelli and Borg are available in one to five-light versions in order to fit everything from a tiny powder room to a large and luxurious bathroom retreat.
Vanity Wall Sconces
When using Vanity Wall Sconces, install two wall sconces on each side of your mirror, at least 30" apart. The brightest portion of the wall sconce should be aligned with the face, or approximately 60-66" above the floor. Edge Lighting's Greta and Garbo bath bars can also be mounted vertically for a linear wall sconce with a contemporary look. Norwell's Apollo, Nexus and Astor Vanity Wall Sconces offer exemplary lighting and quality craftsmanship with a more traditional bathroom lighting aesthetic.
About Lightology
Visit Lightology.com to take advantage of this exclusive offer of 15-35% OFF Bathroom Lighting and browse the largest online selection of modern lighting. With over 27 years experience in the lighting industry, Lightology's web site and 20,000 sq. foot contemporary showroom in Chicago offer you unmatched technical knowledge, accredited customer service, the highest quality and latest trends in contemporary lighting.
Along with the largest selection of contemporary lighting online, Lightology also offers:

Price Match Guarantee
Free Shipping on orders over $50
Hassle Free Returns
Free Assistance from Certified Lighting Consultants
Over 300 manufacturers, many exclusively available at Lightology
# # #