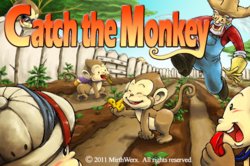 We're steeped in a gaming culture of violence. It was hard to break free and think of new solutions.
Burlington, Canada (PRWEB) February 01, 2012
Catch the Monkey launches today in the Apple App Store. In Catch the Monkey, adorable and curious monkeys invade an elderly farmer's field. Players help remove them by using a variety of humorous and non-violent tools. Finding the right tools to use was no easy task.
"We're steeped in a gaming culture of violence. It was hard to break free and think of new solutions," says co-designer Thomas Henshell. "Even mobile hits considered family-friendly contain cartoon violence. Plants vs. Zombies has shooting of zombies, while Angry Birds has the crushing of pigs."
Artist and co-designer Alex Lin recalls the early design dilemmas, "The monkeys are like toddlers: cute, curious, and always getting into trouble. With this artistic direction it was clear the player cannot harm the monkeys. We discarded numerous concepts before one day discovering the key while observing a parent. When toddlers are doing something they shouldn't, parents will shake a rattle to shift the child's attention. Parents have been using distraction for centuries! With this distraction concept, we knew we could move forward and make a great game!"
But how would players feel about a non-violent action game? Thomas responds, "We know people may think non-violent means non-fun. This was a huge hurdle. It wasn't about merely coming up with non-violent solutions, but coming up with fun and engaging non-violent solutions. The distraction mechanic makes for an enjoyable experience that can get quite intense. Yet, beneath the cute, funny visuals, is a game of serious depth. There is plenty of challenge even for the veteran gamer."
Focus group testing results were extremely positive. "When we saw players giggling, jumping out of their seats, or yelling at the monkeys, we knew we were on to something," says Alex. "It was difficult, but it feels great to create something families around the world can enjoy."
Catch the Monkey is a casual action game featuring:

7 types of monkey with over 4,000 frames of hand-drawn animation
10 unique tools to unlock like bubble gum, cardboard box, and paper bags
Use gestures to flick bananas, fling a rubber ducky, or swipe a feather to tickle a monkey
Collect stars to purchase over 20 upgrades and special abilities
A comical story across 35 levels
iTunes App Store Direct Download Link:
http://itunes.apple.com/us/app/catch-the-monkey/id495509241
###