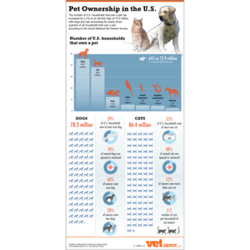 Encinitas, CA (PRWEB) February 01, 2012
Budgets may be tighter than ever before for many American families, but most pet lovers agree that the expense of ownership is still worth the return in companionship. A pet ownership infographic released by VetDepot, a leading internet retailer of pet medications and supplies, reveals that the number of U.S. pet owning households has reached an all-time high of 72.9 million, up 2.1% from the previous year.
Almost two-thirds of households in the U.S. own at least one pet, with at least one cat in 38.9 million homes and at least one dog in 46.3 million homes. Fish are third on the list of most commonly owned pets with 12.6 million households. Birds, small mammals, and reptiles all account for about 5 million households each. Just over two million families own at least one horse.
VetDepot's infographic is based on information from the 2011-2012 Pet Owners survey conducted by the American Pet Products Association (APPA). According to the survey, 70% of dog owners and almost 60% of cat owners view their pet as a child or family member. With those kind of statistics, it's no wonder that the American people are finding room in their budgets to accommodate a four-legged companion. In fact, 70% of those surveyed report that the economy plays no role in determining how much they are willing to spend on their pets. A small segment of pet owners (around 3%) even report spending more on their pets now than they did before the economy took a downturn.
So, where does this willingness of American families to invest so much in pet ownership stem from? Perhaps the benefits, both physical and emotional, play a role. Over 60% of the dog, cat, fish and horse owners surveyed say that their pet helps relieve stress. 63% of dog owners and 39% of cat owners even report that their pets are actually good for their health or the health of their family. Although there are arguments on both sides as to whether pet ownership truly increases your chances of good health, a daily dog walk or de-stressing at the end of the day with a faithful companion can certainly do no harm. Whatever the added perks of pet ownership may be for individual owners, most agree on one thing- pets are loyal companions. Over 90% of both cat and dog owners report that their pet is a source of company, love and affection.
VetDepot offers the very same pet products available from your local veterinarian with savings of up to 60%. VetDepot lets consumers save both time and money on all their pet supply needs. All VetDepot products are backed by their 100% Satisfaction Guarantee. VetDepot is LegitScript certified, has an A+ rating with the Better Business Bureau and is committed to low everyday prices and excellent customer service. Check out their website at http://www.vetdepot.com or call their toll free customer service line at 866-456-0400. Give your pet the BEST!™
###