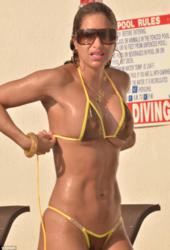 Best Selling Author & Intl Fitness Celebrity Jennifer Nicole Lee Voted Worlds Most Beautiful Woman of 2012
New York City, New York (PRWEB) February 01, 2012
The best-selling author will be soon revealing her all time favorite beauty secrets in a nation wide beauty campaign, to key media outlets, helping other women and busy moms look and feel their best. Jennifer Nicole Lee was just recently spotted tanning poolside, as she took a break from her super busy schedule in between traveling and her projects.
Known by JNL by her endearing worldwide based fitness friends, Jennifer Nicole Lee isn't shy when sharing her all time favorite "goddess" secrets. "I feel it necessary to share my fitness, glamour, wellness and beauty secrets from what I have learned along my own journey. As a busy mom, information is power, and this is the main basis to my seminars, products, books and services." Jennifer Nicole Lee's notoriety shot to an al time high after she penned her first bestselling book on wellness and living a balanced lifestyle in an unbalanced world. "My 'Mind Body & Soul' Diet book is all about embracing yourself and learning self love and self respect. Some have described its as the weight loss version of 'The Secret'." Her second book is an all encompassing beauty, glamour, and fitness book which also includes a diet food plan called "The Fitness Model Diet" book. "This book is the modern day mom and woman's blue print to total and complete fitness and beauty. I poured my heart and soul into it, so other modern moms could look and feel their best at any age and at any shape."
Jennifer Nicole Lee is also the creator of the JNL Fusion Workout method, which includes an annual World Conference held in Miami every January. The JNL Fusion method has been captured on a 12 complete dvd set, for total fitness workouts from top to bottom. Her motto is "Strong is the New Skinny".
For more info, please visit http://www.JenniferNicoleLee.com
and
###