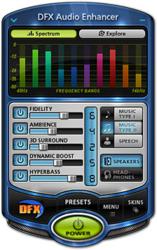 San Francisco, California (PRWEB) February 08, 2012
FXsound.com today introduced DFX 10, an audio enhancement product that works with the wide majority of popular desktop streaming music services and media players, including Pandora, iTunes, Spotify, YouTube, last.fm and most other music services and media players.
DFX uses patent pending technology to repair the audio damage caused by the data compression methods employed by both streaming music services and players. These compression methods reduce the bit accuracy of important components of the audio, leading to reduced listening quality. DFX dramatically improves the listening quality by re-synthesizing audio components that were damaged during the encoding process.
In addition, DFX conditions the audio for improved playback on typical headroom limited desktop audio systems, resulting in much higher undistorted output level. This has the desirable green aspect of providing higher output levels without drawing on the additional resources that would be required for larger speakers and amplifiers.
"Most listeners don't realize how much data compression is employed by the music service companies in order to keep their bandwidth usage as economical as possible. With this heavy data compression a serious loss of audio quality is unavoidable but DFX really corrects this and it's been very well received. For example, one DFX user referred to it as 'like taking the blanket off the speakers' ", said Paul F. Titchener, Ph.D., FXsound.com President.
DFX is available for purchase for $29.99 at FXsound.com and an evaluation version is also available.
FXsound.com also has a special program for music service companies that enables them to provide the highly improved audio quality enabled by DFX to all their users while also generating additional revenue. DFX is also available for integration with cell phones and portable media devices and provides substantial improvements in both audio quality and speech intelligibility. For information on these programs contact FXsound.com at FXsound.com/company/contactus.
FXsound.com was founded in 2000 by Paul Titchener and Mark Kaplan. Dr. Titchener received his Ph.D. from Stanford University, holds multiple patents and was a co-founder of Comdisco Systems, a company that introduced an innovative DSP and communications system design tool with world-wide sales exceeding $300 million. At FXsound.com Paul Titchener and Mark Kaplan jointly developed the DFX® MP3 enhancer, which since its introduction has become the world's most popular audio software accessory with over 30 million downloads.
For more information about FXsound.com, visit FXsound.com/company or call 415-467-7886 x122 .
DFX is a registered trademark of FXsound.com. Pandora, Spotify, iTunes, YouTube and last.fm are registered trademarks of their respective holders.
###