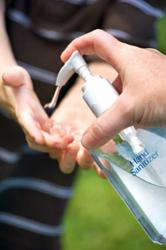 (PRWEB UK) 1 February 2012
Industry Online leader Door Handles LTD give advice on preventative measures that should be taken in a workplace environment as studies show that door handles and other common points of contact such as lift buttons and stair banisters are the largest contributing factor to the spread of infection and sickness among workers.
A recent report by Rod Moser, PA, PhD, a primary care physician assistant with more than 35 years of clinical experience in adult and pediatric health also points out that this is highly relevant for doctor surgeries where the rate of infection is very high due to the high number of people with illness who pass through the surgery on a daily basis.
One of the most common preventive measures is the use of a hand sanitizer. These are common in most medical complexes but are not as widely used in the common workplace. Hand sanitizers are an alcohol based alternative to soap and water dispensers. They have a highly concentrated level of alcohol, which can vary between 65% and 85%. According to Wikipedia sanitizers with anything over 70% alcohol will kill 99.9% of bacteria on the hands after 30 seconds. Soap and water dispenser are not as effective alcohol based dispensers, which can also give unwanted side effects from the soap leading to dry skin if in constant use.
When people are entering the workplace environment it they will be taking certain germs and bacteria in with them so it is vitally important that items such as hand sanitizers are at the main entrance and beside lifts.
The best way to contain the spread of infection on surfaces such as door handles is to clean them and in most work environment this process can be done several times during the day but obviously this cannot be done every time somebody touches a surface so a much more practical solution is required , basically if there is no bacteria to begin with then it has little chance to be spread.
Hand Washing
When going to the toilet always ensure the you wash your hands thoroughly and also keep in mind that toilet door handles are one of the highest risk areas of infection in the workplace. Many people wash their hands after they have used the toilet but then touch the door handle of the toilet when exiting, which could be highly contaminated by other colleagues touching it. So it is worth noting that a piece of tissue or paper towel could go a long way.
Unbroken Skin
When your skin is broken it is easy for pathogens to gain access to your body so always cover any cuts with a waterproof dressing.
Gloves
If you are coming into contact with bodily fluids are with equipment that has came into contact with bodily fluids you should ensure that your hands are covered at all times and dispose of the gloves appropriately when finished.
Personal items
Don't share towels tea towels, clothing, razors, toothbrushes, shavers or other personal items.
Kitchen Utensils
When using a communal kitchen ensure that you are not sharing other people's glasses and cups etc. Ensure that everything is washed thoroughly and if possible use only your own glass or cup
Shared computers, printers and photocopiers
These items may be seldom cleaned and may become highly contaminated. They are major risks of infection.
With these simple preventative measures you are decreasing the spread of infection in the workplace on surfaces such as door handles and other common points of contact and therefore helping to maintain a healthy workforce and possibly reduces the number of staff falling ill and requiring sick leave.
###