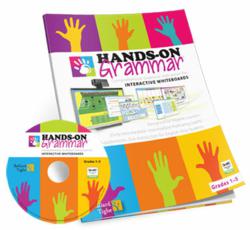 ...this movement creates another pathway to memory that helps students internalize the grammar concepts...
BREA, CA (PRWEB) February 02, 2012
Ballard & Tighe, Publishers today announced the release of their newest instructional product, Hands-On Grammar ( http://www.Hands-OnGrammar.com ), designed for use with one of today's most engaging learning tools for students—the interactive whiteboard (IWB).
Covering 15 areas of grammar with 220 activities, Hands-On Grammar provides comprehensive grammar content that is aligned to the Common Core State Standards. Areas of grammar include parts of speech, nouns, adjectives, conjunctions, and past and present tense.
"Hands-On Grammar puts grammar lessons in students' hands, giving them opportunities to interact with content by dragging, writing, and manipulating objects and text on the interactive whiteboard, while developing oral language and vocabulary skills. All this movement creates another pathway to memory that helps students internalize the grammar concepts they're learning while making grammar fun," says Mark Espinola, CEO of Ballard & Tighe.
"As most teachers know, the IWB is not merely a presentation tool, but a learning platform that creates a hands-on learning environment for students, engaging and encouraging their participation during lessons. We're excited to introduce Hands-On Grammar as high quality content for the interactive whiteboard."
IWBs transform classrooms into multimedia environments, and more educators are embracing this technology for its ability to engage students and impact learning. According to the 2011 "National Survey of Interactive Whiteboard Usage," conducted by Education Market Research, 69.8% of teachers surveyed believe that the IWB "is definitely here to stay, and its penetration will grow significantly over the next few years."
Designed for English language learners, Hands-On Grammar also supplements ELA instruction for English-only students. Educators can visit http://www.Hands-OnGrammar.com to download a free sample lesson, or to see an overview, demonstration videos, and screen shots.
About Ballard & Tighe
Ballard & Tighe, Publishers has focused on developing products for English language learners since 1976. Ballard & Tighe produces assessment products and instructional materials used in more than 3,500 school districts throughout the U.S. and internationally.
Contact: Khoi Nguyen, Ballard & Tighe, Publishers, 714.990.4332/knguyen(at)ballard-tighe(dot)com
# # #