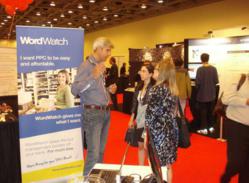 This is a service that will help tons of potential advertiers get online.
(PRWEB) February 01, 2012
WordWatch has announced a starter package for those who are not yet advertising on Google AdWords but would like to start. WordWatch will offer a complete AdWords set up with multiple campaigns, including keyword research, text ad writing and 3 months of bid management for $149.
"Something we've noticed in talking to small business owners is that they want to be on AdWords but they want someone to help them get set up," CEO of WordWatch, Todd Wilkinson said. "It's not necessarily easy to start AdWords, and this is a service that will help tons of potential advertisers take the leap and get online."
While the other packages WordWatch offers are completely automated, the starter package is created and managed by SEM professionals before being connected to their bid management app.
About WordWatch:
Founded in 2009, WordWatch is an online AdWords bid management application designed for small business advertisers, marketing consultants and freelancers, and small agencies. The application simplifies the daily management of keyword bids and constantly optimizes a customer's AdWords account. WordWatch has offices in San Jose, Amsterdam and Krakow.
Related Links
http://www.wordwatch.com/customers/new-advertisers
# # #