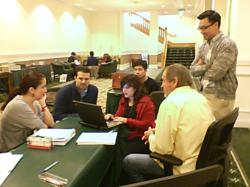 Healdsburg, CA (PRWEB) February 01, 2012
Source Point Training (http://www.sourcepointtraining.com) is bringing its successful Leadership coaching program to Charlotte, NC. The firm, based in California, continues its tour of the U.S. with programs offered in San Diego, Las Vegas, Portland and Phoenix.
Program: Leadership Source: Lead with Purpose and Vision
Training Dates: April 20-21, 2012 and June 8-9, 2012 (Friday and Saturday)
Coaching Dates: April 21 through June 8 (10 weeks)
Location: Charlotte, NC
The unique features of Source Point's leadership training:

Two weekend training sessions; cover key principles of leadership and how to apply in all areas of life.
Two content-rich workbooks; used during the training weekends and to keep as a reference guide.
10 Weeks of one-on-one coaching; focused on individual personal and professional goals.
"People who attend our leadership trainings get added benefits from the 10 weeks of performance based coaching that assures attainment of goals and retention of key leadership principles to success. That's how our training is a key difference from other leadership trainings," says Barbara Fagan, president and co-founder of Source Point Training.
Another unique feature of the program is the 100% guarantee of satisfaction. "Complete the entire course of one of our trainings and I guarantee you'll be completely satisfied," says Fagan. "If not, we'll give you a full refund."
Leadership Source is an experiential program. Not only do participants work one-on-one with a professional leadership coach, participants of the program also work together as "leaders in service," Fagan comments. "They remain in contact with each other throughout the coaching process, align on a single goal and create a project that makes a difference for others."
Fagan asserts that the economics behind professional coaching is a compelling argument for its effectiveness. An independent study conducted by PricewaterhouseCoopers reported that professional coaching produced a return on investment of seven times the initial investment for companies and individuals who participated in programs like Leadership Source.
"People ask me, what's behind the trend for more professional coaching?" she says. "It comes down to math. Corporations have discovered that coaching is good for the bottom line. It is profitable because they see real gain from their investment in terms of increased productivity and organizational cohesiveness. They also see that it enhances the substantial investment already made in employees and management."
Fagan points to work that Source Point Training began with Charlotte YMCA centers last year. "We found that the people in this area are very committed to increase their leadership skills as a way to make a greater contribution to their members and to be in service to their community," she states.
What the Charlotte area participants have shared is that they had experienced a well organized, results-generating training; have a desire to have their colleagues attend the training; that the training combined with the coaching brought them to new levels in their personal and professional lives and that the course exceeded their expectations.
Source Point Training's Leadership Source programs are among the most sought-after in the United States. This program is open to all professionals and college students in the vicinity of Charlotte, NC area including Atlanta, GA, Columbia, SC, and Richmond, VA.
Most of the participants are professionals trying to keep up with rapid changes in the job market by improving their performance and business owners looking for ways to engage and empower their employees. College students also attend because they benefit from developing leadership skills that will assure early success in their careers.
"Every participant benefits from developing strong relationships with communication tools that build confidence and goal setting with real accountability for achieving desired results," says Fagan. "We're offering people an opportunity to do work on the most valuable commodity they own – themselves, their career, their future."
"This is all about diving into the deep end of adult learning with a substantial leadership curriculum developed by professional leadership coaches who are recognized by International Coach Federation (ICF). I guarantee that participants will feel challenged during our 2-weekend classroom instruction and the 10-weeks of one-on-one coaching."
"I have found that the most important element in affecting change is through empowerment; motivating people to take action and to put new skills to work every day," she concludes. "Armed with good training and a coach who can clarify objectives, participants remove barriers that prevent them from moving forward. A program like this raises self awareness and provides renewed purpose and vision with a commitment to take massive action."
See this video for a recent testimonial by a recent graduate of Leadership Source training.
For more information about this program, visit http://www.sourcepointtraining.com/leadership-training/leadership-source/charlotte-nc/, email admin(at)sourcepointtraining(dot)com or call 800-217-5660 x103.
###