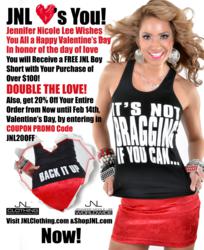 Some of her most highest selling items include her trademarked phrases such as "STRONG IS THE NEW SKINNY", "got muscle?", "GLUTES THAT SALUTE!", "DALE!" and "KISS MY ABS", all avail at www.JNLClothing.com
Miami, FL (PRWEB) February 03, 2012
Jennifer Nicole Lee states that "love is in the air" and that she plans on "turning up the love" for her worldwide fitness friends with a super sweet yet sugar free sale for her http://www.JNLClothing.com line. JNL is a branding powerhouse and now shares the passion for fashion with her fun, tongue in cheek, super catchy, head turning positive messages emblazoned on her chic urban Streetwear and fitness clothing line, which consists of super soft baby doll tees, tank tops, boy shorts, baseball hats, and handy all purpose eco-friendly bags.
Jennifer Nicole Lee states "Valentines is one of my all time favorite days of the year, were we all stop and say thank you and I love you to our close ones and the angels in our lives. And what better way to celebrate than to get your special someone a JNL Clothing line item that is from our limited edition collection."
JNL's memorable, catchy, and unforgettable mantras & sayings are captured on her JNL Clothing line, infusing clothing with an energy that transforms your mindset from off to on.
Some of her most highest selling items include her trademarked phrases such as "STRONG IS THE NEW SKINNY", "got muscle?", "GLUTES THAT SALUTE!", "DALE!" and "KISS MY ABS".
JNL's Clothing line can be described as youthful, fun, fresh, hip, and joyful, as the apparel causes one to look twice and smile. When asked about her line JNL responds "my clothing line is as multi-dimensional as our lifestyles. The separates are perfect for training, carpooling, shopping, lounging, going out in, dressing up, or dressing down. My designs are universal, for any age, any race, and any demographic. My line is where fashion, fitness, and functionality all reside together, allowing you to train and live in style!"
###