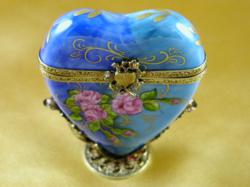 Limoges Boxes are used as engagement ring boxes, to send love poems, and other special trinkets boxes between lovers and friends.
(PRWEB) February 01, 2012
Limoges Boxes Boutique has a new Rochard Limoges collection for Valentine's Day. Limoges Boxes have always symbolized French romanticism and Limoges Boutique is quite excited about the arrival of this new line. Limoges Boxes are often used to celebrate an event in one's life. Madame de Pompadour Josephine, the Empress of France and Alexander, Tsar of Russia, are some of the admired historical Limoges Box collectors. Porcelain Limoges boxes were formerly used to keep snuff, send love poems, give engagement rings, and other special trinkets between lovers and friends. These fabulous trinket box pieces were also used as make-up and powder boxes. Some Limoges Trinket Boxes even contained tobacco leaves. Limoges Boutique boxes follow a tradition of eminence and brilliance and make the perfect presents, holiday gifts, & collectibles for this upcoming Valentines celebration of love.
Limoges Porcelain Box Valentines Day Gifts are entirely made & decorated by hand in the heart of the city of Limoges France. Limoges boxes are symbol of love, and make a fabulous gift to celebrate such as a an engagement ring box, as wedding or bridal gifts, as an anniversary gift, as a fantastic birthday gift idea, or any other special gift giving occasion or event. You can see these authentic Limoges box figurine collection at Limoges Boutique Boxes.
The Limoges Boutique Porcelain Boxes are all produced in limited editions quantities and numbered per production line. Their porcelain boxes are also finely crafted by hand-picked master artists in Limoges France. A Regal Proclamation in 1764 by Louis XVI has authorized the Porcelain Ateliers producing Limoges Porcelain within the city limits to have a royal label of quality & a French imperial title. Every Limoges piece sold by Limoges Boutique comes with a French certificate of authenticity. The phrase "Peint Main" indicates that the Limoges box is indeed painted by hand. Limoges Boutique only offers Limoges Boxes from authentic and reputable companies. Each porcelain piece from the collection is intricately hand-painted with inordinate detailing. Many of the pieces have stylish paintings inside and are often accompanied with a lovely accessory piece.
Limoges Porcelain Boxes also offers authentic limited edition Limoges porcelain ring boxes and China Limoges dinnerware along with Boutique. All of our Limoges pieces are entirely hand-painted and made by the finest factories in Limoge, France.
Only authentic Limoges boxes are initialed with the mark of the maker sign peint main Limoges, France and numbered limited edition. Limoges Box Boutique only offers Limoges from reputable companies such as Artoria, GR, PPA, Chamart and Rochard. These Limoges boxes come wrapped in silk paper, placed in a gift box, and come with a certificate of authenticity. This way you will always be able to determine between the faux and genuine pieces. When the limited edition Limoges boxes line is completed the Limoges mold is destroyed forever, and the retired piece's value will increase.
Rochard and Artoria Limoges Box lines are known for manufacturing the most premium porcelain in the world. Limoges miniature figurines and trinket boxes are hand-painted and hand-mounted with fitted metal hinges. Using a painstaking and time-consuming process that involves multiple firings at 1400 degrees Celsius, Limoges Boxes are made only of the purest Kaolin clay. Limoges Boutique offers a wide selection of Limoges box collectibles in all imaginable styles and designs, and frequently adds new and innovative designs in innumerable subjects. Each Limoges box accessible from Limoges Box Boutique is individually custom-crafted by leading artists in the Limoges France region. Limoges Boutique Porcelain Boxes are sure to capture the enjoyment of any Limoges collector or gift recipient.
Please visit our Limoges Porcelain Figurines collection to see this magnificent Valentine's Day Porcelain figurine collection of authentic Limoges boxes.
###