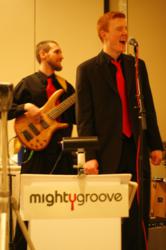 (PRWEB) February 01, 2012
Boston Rock Band, Mighty Groove, will make be releasing a live recording of their debut appearance at An Tain near Fanuel Hall. The performance took place on Thursday, January 26, 2012. The music will included covers from the classic rock era, modern pop music, and original music. The performers were Vita Schmidt on vocals, Nick Grondin on guitar and vocals, Matt Edwards on Bass, and Paul Geresy on Drums.
This was Mighty Grooves first public appearance in 2012, and they were able to record their performance live with a new recording setup, including brand new mics, and a new Mackie mixer. The group has recorded live before, but this is their first multitrack live recording.
Included in the equipment is a TC Helicon Voicelive 2. The Voicelive 2 acts as an FX processor for both vocals and the trombone. It has many presets, including a hard autotune function that allows Mighty Groove to get the "T-Pain" effect live.
Mighty Groove has a busy schedule for the 2012 year, including performances at Providence College, and many other local New England venues. Band leader Dave Roth says, "It is our goal this year to release a new CD including original songs we have composed." The group is scheduled to record at Woolly Mammoth sound in Waltham in March.
About Mighty Groove
Mighty Groove is a band based out of Boston that covers all genres of music and performs in Maine, Vermont, New Hampshire, Rhode Island, New York, and Connecticut. Mighty Groove offers entertainment for weddings, galas, receptions, charity events, and concerts. They have been performing at events since 2010. Performers in Mighty Groove include John Stevens on vocals, Nick Grondin on guitar, Gretchen Bostrom on vocals, Paul Geresy on drums, Tucker Antell on sax, Mark Zaleski on sax and bass guitar, Matt Edwards on bass, and Eric Lane on keyboard and sax, and David Ira Roth on trombone.
###