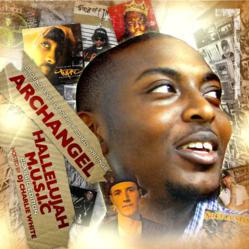 Miami, FL (PRWEB) February 01, 2012
Hip hop artist Archangel recently released his [mixtape "Hallelujah M.U.S.I.C. (Classic Edition." Coast 2 Coast presents the project, which is hosted by DJ Charlie White, in association with Ground Level Leaders/Prophecy Writings. It is now available for free download. "Hallelujah M.U.S.I.C" features Archangel on tracks with guest artist appearances from KI, Miscellaneous, LC, D-Jae, Jo'zzy, and Web. Production credits include Raw Heatz, 531 Music, Claws, Carmike, and Sinista, Web, and Trizz of The Machine.
Memphis artist Archangel is the first person out of his family to pursue music, and so he lists his influences as those people who make life a melody—everyone from your everyday construction worker with a jackhammer, to a vocal note from Marvin Gaye. This mixtape is the first of three in his "M.U.S.I.C." series. His goal with the "Classic Edition" is to bring to light a certain depth that he feels hip hp music is lacking. The second mixtape, "Hallelujah M.U.S.I.C. (Exclusive Edition)," which is hosted by DJ Crumbz is set to drop in summer 2012; and the final installment, "Hallelujah M.U.S.I.C. (Live Edition), will be hosted by DJ Smalls and will be released soon after.
The acronym M.U.S.I.C. stands for "Man U Saw It Comin'," which is the title of Archangel's forthcoming album, set for release during the first quarter of 2013.
"Hallelujah M.U.S.I.C. (Classic Edition" is available for free streaming and download at http://coast2coastmixtapes.com/mixtapes/mixtapedetail.aspx/archangel-hallelujah-music-classic-edition-hosted-by-dj-charlie-white
###