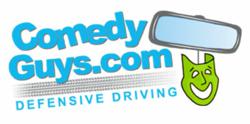 Whether it's a small company or large organization, if they have drivers on the road, we can save them money."
Dallas - Ft Worth, Texas (PRWEB) February 01, 2012
As businesses experience increased pressure to cut costs and maximize profits, more companies in a variety of industries are taking advantage of Comedy Guys Defensive Driving's corporate classes to cut costs arising from their transportation and distribution networks.
Comedy Guys co-owner Mark Cooper said, "Whether it's a small company or large organization that saw a need, if they have drivers on the road, we can save them money."
THREE WAYS TO SAVE
Better trained drivers will have a better safety record, saving the company financial losses arising from collisions, including damages, repairs, workers' compensation, and time lost due to injury.
More immediately, putting a company's drivers though a state-certified driving safety course reduces the insurance premiums, both for the company and the individual drivers.
Moreover, by requiring that all company drivers take such a course, a business gains added lawsuit protection against allegations of negligence should a collision involving a company vehicle occur. It becomes much more difficult to claim a company has been negligent once this additional driving safety class becomes a standard part of required training for all company new-hires.
WHY CHOOSE COMEDY GUYS
Cooper claims that more companies are choosing his Dallas-based defensive driving school because of the experience of the personnel. "We were some of the first people to mix driving safety with comedy, and because we've retained our best instructors over the years, we have a core group of corporate trainers who, combined, have more than 100 years experience at making drivers safer."
The flexibility of the Comedy Guys' corporate program is also a valuable attribute. The school is often able to design a course to meets a company's specific needs, including driving conditions and even particular vehicles in use.
Also a Comedy Guys corporate driving safety class can be adapted to a wide range of company sizes. One small Dallas-based ambulance service has for years required all of its new-hires to attend one of Comedy Guys regularly scheduled local defensive driving classes. Larger companies set up special on-site classes for groups ranging from ten to one hundred drivers. In December, for example, Comedy Guys sent defensive driving instructors to thirteen locations across Texas to train more than 500 drivers for a multinational energy transportation company.
Many corporations prefer a classroom environment, but when that isn't convenient or cost-effective for a particular company, Comedy Guys can create a corporate account for its online defensive driving course so that the company's drivers can meet their training requirements via the Internet. In November 2011, for example, ComedyGuys.com did exactly this for almost forty drivers for a Texas-based oil transport company with employees in two states.
Online convenience is enhanced by Comedy Guys having formatted its online driving safety course to work via iPhone, iPads, and Android phones and tablets.
A GROWING SERVICE
Comedy Guys fully expect the size and number of its corporate driving safety classes to continue to grow through 2012.
In fact, added Cooper, "Just this week I was approached in one of our regular classes by a company representative who wants to use Comedy Guys to save his company money and improve its safety record. As long as we can save companies this kind of money, they'll keep coming to us."
ABOUT COMEDY GUYS
Comedy Guys Defensive Driving is one of the largest driving safety schools in Texas, currently offering live defensive driving classes taught by professional comedians in 17 Texas cities. ComedyGuys.com also offers an entertaining online defensive driving course available anytime and programmed with work-when-you-want flexibility.
###