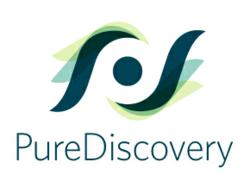 New York, NY (PRWEB) February 01, 2012
PureDiscovery today announced the launch of PureDiscovery LegalSuite V2.1 (PDLS), the newest version of their eDiscovery software suite. The release includes significant changes to the products workflow through a more intuitive user interface and the addition of several compelling product features suggested by the rapidly growing PureDiscovery user community. The most frequently suggested and significant upgrade to PDLS is the addition of a visual search capability the company calls "Focus".
"In the inaugural version of PDLS we introduced whole case visualization that enabled our users to see and then visually navigate their case data," said Dave Copps, CEO of PureDiscovery. "With the introduction of Focus, we have now created the ability for PDLS users to visually explore the results of their transparent concept searches. It's a remarkable new feature created by our talented development and design teams, that is unrivaled in the eDiscovery space."
The feature highlights of PDLS V2.1 include:

Transparent Concept Search: The industry's first and most trusted semantic search.
Whole Case Cluster Visualization: Completely automated, visually navigable case
visualization.

'Focus' Search Query Visualization: The industry's only semantic search results
visualization.

Near duplicate and exact duplicate detection: Simple, scalable and effective data culling.
Full integration with leading processing and Legal Review product platforms: Broadly
connected.
PureDiscovery continues to be a disruptive innovator in the eDiscovery space. "Our partners and direct clients have come to expect unique innovations from our new product releases," said Chris Rohde, Business Development Officer of PureDiscovery. "The design, function and capability of PDLS provides them with a distinct advantage over competing products".
PDLS V2.1 solidifies the company's position as the leading provider of advanced eDiscovery analytics. As Big Data continues to grow and the need to reign in costs continues to increase in importance, PureDiscovery's PDLS product suite is uniquely positioned to excel on both fronts.
About PureDiscovery
PureDiscovery are the developers of the BrainSpaceTM platform. BrainSpace™ is changing the way people work in industries around the world. In the Intellectual Property market PureDiscovery has created the largest machine intelligence in the world and in eDiscovery we are powering 4 of the top 10 Service Providers. The company's LegalSuite product application is used in the processing, review and analysis stages of the EDRM. PureDiscovery is an innovative software company that is reshaping markets by re-inventing the art of semantic discovery.
###