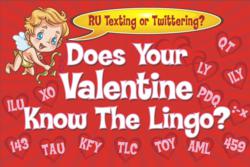 NE1 CAN BE A
TXT-PERT!
Oak Park, IL (PRWEB) February 01, 2012
Do you know the #1 texting acronym? TOY – Thinking of you
Love is sent in many ways 143, 459, 831 – all mean the same "I LOVE YOU"
Textapedia texting pocket guide is a quick reference pocket guide has over 1,200 acronyms, business & banking, 10 languages to text "I LOVE YOU" (French, Spanish, Polish, Italian, German and Chinese to mention a few), Love & Fun, Spanish, Medical, Sports (MLB Baseball, NFL Football, NBA Basketball, NHL Hockey, MLS Soccer), Fantasy Players, Texting Etiquette, hundreds of Smileys and more. Top 50 most popular Texting Acronyms. Learn how to start a Twitter following section.
Retailers across the country have seen the success of Textapedia texting pocket guide sales. Textapedia will prove a "must have" for the customers who simply want to learn the lingo or "Type Less and Say More!"
Textapedia pocket guide translating texting shorthand (acronyms) made easy.
The Textapedia texting pocket guide comes in four new exiting colors Pink, Blue, Tie-Dye & Green.
Custom covers for wireless carriers, colleges and businesses as well as fundraisers are available upon request. Special seasonal display theme cards are available for in store merchandising.
Young adults, parents and grandparents all want to learn the lingo.
For more information contact Textapedia Inc. at the following email address: info(at)textapedia(dot)com or sales(at)textapedia(dot)com
Call Textapedia Inc at 1-888-822-6898
To get a copy of the #1 selling texting pocket guide visit the website at (safe for young adults, no explicit content) http://www.textapedia.com
Retailers place your orders now, go to our B2B section for more information. Place orders by 2pm and we guarantee shipping same day.
Mail: Textapedia Inc., P.O.Box 3223, Oak Park, IL 60303
TOY – Thinking of you, XOXO – Hugs and Kisses,
KFY – Kiss for you, 143, 459 or 831 – I Love You,
@>--;----- - Rose, MUSM – Miss you so much,
<3 – Heart, (((H))) – Big Hug,
:-x – Kiss, QT – Cutie,
YBY – Yeah Baby Yeah
Made in the USA--Buy American.
###