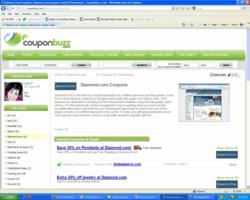 A little bling goes a long way to helping Cupid's arrow find its mark!
Houston, TX (PRWEB) February 01, 2012
Today CouponBuzz.com announced a 20% off site-wide coupon for Diamond.com, one of the largest online retailers of loose diamonds and high-quality diamond jewelry. This particular special comes just in time for Valentine's Day, and is featured on their recently launched webpage dedicated to Diamond.com Coupons.
Established in 1999, Diamond.com is a division of Ice.com, and offers a beautiful selection of diamonds that have been cut, shaped and polished by craftsmen who know how to make a gemstone shine. In addition, they recognize the growing international concern over diamond procurement policies. As stated on their website, "Diamonds sold on Diamond.com are also procured from authorized sources and validated through the Kimberly Process, the world's most respected international certification process that uses strict requirements to control the production of rough diamonds and prevent illicit diamonds from entering the country."
As Valentine's Day approaches, increasing numbers of shoppers are starting to get anxious about procuring a gift that communicates their feelings. Regardless of whether it's young love, old love, new love, or (as-yet) unrequited love, Diamond.com will have the perfect selection for every budget.
"Diamond earrings and necklaces are a surefire hit for Valentine's Day. We at CouponBuzz.com consider ourselves to be one of Cupid's favorite helpers," quipped Justin Bowen earlier today, one of the senior directors at the site. "Based on the increased internet traffic our new Diamond.com coupons section at CouponBuzz.com is attracting, smart shoppers are finding their way to deals like this 20% off coupon. And, in our opinion, a little bling goes a long way to helping Cupid's arrow find its mark!"
One of the best things about using diamond.com coupons like the 20% off site-wide offer for Valentine's Day is that the online shopper's significant other never needs to know that their present was purchased at a substantial discount! Every purchase comes in a specially designed signature gift-box, and with a full 30-day money-back customer satisfaction guarantee. CouponBuzz.com's recently launched webpage featuring the site-wide 20% off coupon, along with many other incredible offers from Diamond.com, can be accessed at http://couponbuzz.com/diamond.com-coupons.html.
###