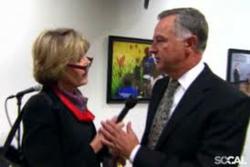 ...investigative journalism at its best
Hollywood, CA (PRWEB) February 01, 2012
The Los Angeles Press Club's 2012 Public Service Award goes to the KCET SoCal Connected investigative unit that exposed lavish and out of control spending at the Los Angeles Housing Authority (HACLA), the billion-dollar agency that provides housing for the city's poor.
The award is for reporting that results in improving the civic life of a city or region in California.
Three hard-hitting SoCal Connected segments helped lead to the ouster of HACLA's high-priced CEO and two commissioners and later the interim CEO. By the end of 2011, LA city officials were pledging more oversight over the federally funded agency.
Accepting the award at the LA Press Club's SoCal Journalism Awards Gala in June will be correspondent Laurel Erickson, producers Karen Forshay and Rocio Zamora, associate producers Miguel Contreras and Lata Pandya, editor Alberto Arce and executive producer Bret Marcus.
"This KCET team spent over six months examining HACLA expense reports they had forced the agency to release," said LA Press Club President Will Lewis." It was investigative journalism at its best."
The LA Press Club's first Public Service Award went last year to LA Times reporters Jeff Gottlieb and Ruben Vives for breaking, and staying with, the City of Bell Scandal.
The reporting led to criminal indictments and sweeping governmental reforms.
The KCET journalists will join other honorees at the Biltmore Hotel in June, including Bob Woodward and Carl Bernstein of Watergate fame and David Goldstein, CBS2/KCAL9 investigative reporter.
The Los Angeles Press Club, the largest and oldest journalistic organization in the Southland, traces its beginnings to the early years of the 20th century. Its membership is open to reporters, editors, bloggers and photographers who file on all media platforms.
Its primary mission is to encourage and reward serious journalism in Southern California.
# # #