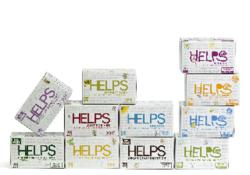 New York, NY (PRWEB) February 01, 2012
February is the month of love. HELPS Teas wants to spread the love by announcing a kids Valentine's Day card photo contest where one lucky winner will receive the entire HELPS KIDS Teas line. Parents can submit their kids' homemade Valentine's Day card by uploading a photo and posting it on the HELPS Teas Facebook.
Sweepstakes is open to residents in the U.S. and begins February 1st and ends February 16, 2012 at 5pm EST. The winner will be announced on February 17, 2012 at 5pm EST. For more information, and or to enter the sweepstakes, please view HELPS Teas Facebook page at http://www.facebook/HELPS.tea.
The HELPS KIDS Teas line is great tasting, caffeine free, and is 100 percent plant based. The HELPS KIDS Teas line consists of DREAMS to help your little one fall asleep; LITTLE TUMMIES to offer relief for an upset stomach, BREATHE to help clear their throat and FOR REHYDRATION DIETS they can feel refreshed.
HELPS Teas adult line consists of ORGANIC EASY DIGESTION, ORGANIC R&R, BREATHE, ORGANIC GREEN TEA LEAVES, MAKE IT EASY, JUST FOR HER and FOR LOW SUGAR DIETS.
HELPS Teas comes from a global parent company, Pharmadus that is a leader in health and wellness for over 50 years. HELPS Teas is Kosher certified and has zero artificial flavoring and no preservatives.
For additional information on HELPS Teas, visit http://www.helpsteas.com or find them on Facebook and Twitter.
For more information and or press interviews, contact Tamara York of Tamara York Public Relations, email: tamara(at)tamarayorkpr(dot)com.
# # #