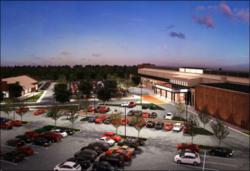 "we want to be able to offer the ultimate 'dinner and movie' experience for Richmonders"
Richmond, VA (PRWEB) February 01, 2012
Richmond (VA) residents will soon be able to add dinner to their moviegoing experience at Bow Tie Cinemas' Movieland located at Boulevard Square, 1301 Boulevard. Bow Tie Cinemas has expanded its footprint by acquiring a additional land adjacent to its existing Boulevard Square property. This acquisition will allow the ownership to fulfill its vision for the complex by creating a complete entertainment experience with several new restaurants.
Streetsense of Bethesda, MD and The Wilton Companies of Richmond are leasing two newly constructed retail or restaurant pads in the new section of Boulevard Square, as well as the existing 5,200 SF historic Foundry Building. "We would like to see a unique, new restaurant concept occupy the Foundry Building, which has been restored in a way that highlights its history as a brass foundry," said Jeff Pollak, Managing Principal, Streetsense."The Movieland theater has been highly successful in attracting guests to the theater – over 650,000 each year -- but we want to be able to offer the ultimate 'dinner and movie' experience for Richmonders." In addition to accommodating new restaurant sites, the newly acquired property will provide an expanded and enhanced cinema parking area.
Boulevard Square opened in 2009 with the redevelopment of two historic structures: a 53,000 SF former locomotive assembly plant, which now houses Movieland, and the Foundry Building. Movieland, Boulevard Square's anchor, features 17 stadium seated auditoriums, private party facilities, and a cafe area serving beer and wine, fresh popcorn, soft drinks, coffees and teas as well as a full complement of hot foods, such as fresh baked pizza and gourmet hot pretzels. Movieland utilizes Bow Tie Cinemas' signature custom seating manufactured with premium fabric, wood, and leather.
Boulevard Square is located at the intersection of North Boulevard and Leigh Street, adjacent to The Science Museum of Virginia and central to Richmond's many residential neighborhoods. Boulevard Square is also less than one mile from a dedicated on/off ramp to Interstates 95 and 64, the region's main transportation arteries, making it highly convenient to those living inside and outside of the City center.
For leasing information, contact Jeff Pollak of Streetsense at 240.479.7200 or B. Hunt Gunter of The Wilton Companies at 804.237.1374.
About Streetsense
Streetsense is an integrated brokerage, design, branding, and development company specializing in retail and real estate. Established in 2001, Streetsense is the premiere and only truly full-service, retail-centric company in the real estate market today. Its powerful platform provides clients with an extremely wide range of services, including master planning, architecture, retail design, retail brokerage, development, and a full-service marketing studio that includes branding, graphic design, publicity, social media outreach, and more. Clients include well-known brands such as Chipotle, Starbucks, Maggiano's Little Italy, Plow & Hearth, and Limited Brands, as well as real estate developers that include The JBG Companies, Vornado/Charles E. Smith, and Akridge. Recent projects include interiors for Matchbox in Rockville, MD (plus a ground-up building pad site), Pi Pizzeria in Washington, D.C., Chipotle's new concept Shophouse in Washington, D.C., and Café Caturra in Arlington, VA; office space design for Living Social in Washington, D.C.; and development of The Shoppes at Arts District, a 36,000 square foot specialty center will be the focal point of Arts District Hyattsville MD). For more information, see http://www.streetsense.com.
###