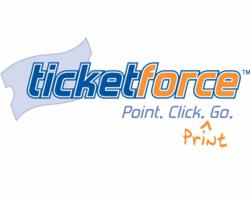 Mesa, AZ (PRWEB) February 02, 2012
TicketForce, a leading provider of ticketing solutions in the US and Canada, announced a lineup of new features now released to make the company's popular ticketing software even more competitive.
Lynne King Smith, CEO of TicketForce, says that the new features focus on keeping the patron front and center, and on helping TicketForce's clients get the features they need to know, keep and engage their patrons like never before.
Features include the ability for TicketForce clients to control pricing, offers, and deals in seconds, without needing a programmer. King Smith says that TicketForce now offers more online options than major competitors, like TicketMaster.
Some of the top new online features include:

Dynamic pricing allowing clients to change price levels while on sale with a single click
Online season ticket renewals
Flex packages and Bundles available online (mixed venues, seatmaps, GA/Reserved)
New discounts available online (Groups, Family Packs)
Ability to create unlimited unique access codes for a performance in seconds
Integrated social media sharing tools with links directly to the purchase page
100% ADA compliant (with designated handicap seating available online)
Facebook filters (route sales to multiple Facebook Fan pages – artist, promoter, or venue)
TicketForce has also enhanced its access control features to include some of the most robust reporting options in the industry.
New access control features include:

Improved user experience on the handheld scanner
Scanner configuration from within ticketing system (not on each scanner)
Increased scanning speeds
Full scan history with order
New sales and delivery methods now available, including enhanced kiosk options (will call pickup and ticket sales), mobile ticketing site, and venue-specific gift cards redeemable online.
What's ahead in 2012?
"With a new patron loyalty program coming up this year, you can know and interact with the fan when they enter the venue, what types of tickets have been scanned and much more," said King Smith. "The program offers a point-based system and text messages offers, for optimal fan interaction and rewards."
For more information, please visit http://www.ticketforce.com and click on "Solutions."
About TicketForce, LLC
TicketForce utilizes a powerful web-based ticketing system to provide venues, promoters, festivals, arenas and civic centers with a fully-customizable solution for full-service ticketing and box office management. TicketForce serves as a technology partner for its customers, enabling sales through integration with Internet sales, Box Offices, and Call Centers. TicketForce provides a complete suite of scalable products and services, including print-at-home ticketing, electronic will-call, access control, payment processing, management tools, and real-time reporting. More information is available at http://www.ticketforce.com.
###