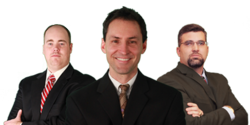 We've structured the firm in such a way that the client's needs are always the priority.
Dallas, Texas (PRWEB) February 03, 2012
After a driver sustained serious injuries in an automotive wreck, he sought the help of qualified attorneys who could aggressively pursue the compensation he desperately needed to fully recover. The victim hired the Dallas auto accident lawyers with Grossman Law Offices to investigate the crash.
The lawsuit (Cause No: 199-04730-2010) was filed within the 199th Judicial District Court of Collin County where the accident occurred. It alleges that the Plaintiff was operating his car in a "lawful, and prudent manner" along the northbound lane of Stacy Road. The Plaintiff was "attempting to turn westbound onto State Highway 121" when allegedly "suddenly and without warning the Defendant failed to yield the right-of-way, disregarded a stop light, and struck Plaintiff." As a result of the accident, the victim suffered "serious and permanent injuries and damages."
Texas car accident lawyer Keith Purdue remarks, "When tasked with obtaining a just recovery from an accident, a Plaintiff always bears the burden of proof, even when they are not at fault. Some firms lack the investigative capacity to fully serve a plaintiff, which is where we try to excel with our in-house team."
Dallas personal injury attorney Michael Grossman notes, "We filed suit in this matter because despite police reports and eyewitnesses who asserted the Defendant's alleged negligence, their attorneys contested this liability. Plaintiff's lawyers are often criticized for their involvement in injury matters, but the fact of the matter is, if people did the right thing, there would not be much need for personal injury firms."
About Grossman Law Offices:
The Texas wrongful death attorneys at Grossman Law Offices have been helping victims seek the compensation they deserve for over 22 years. If you have been involved in an accident, call us at 1-855-326-0000.
###