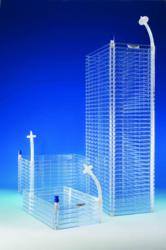 "The Thermo Scientific Nunc Cell Factory System was the first to enter the disposable bioreactor market," said Jill Staggert, Thermo FIsher Scientific
Rochester, NY (PRWEB) February 02, 2012
Thermo Fisher Scientific Inc., the world leader in serving science, today announced that it has been awarded a patent by the United States Patent and Trademark Office on its Thermo Scientific Nunc Cell Factory System with Active Gassing, recognizing the device's unique gas distribution system. Developed for cells that require a high or low level of oxygen for optimal growth or are pH sensitive, the system provides a controlled atmosphere by distributing a user-specified gas mixture that is actively pumped through an attached filtration device.
Nunc™ Cell Factory™ Systems are multi-layer cell-culture vessels that provide a large surface area for growing anchorage-dependent cells in a space-saving footprint. The addition of the active gassing system ensures a controlled, contamination-free atmosphere in each culture tray, and the patented system achieves greater yields and optimizes production capacity without changing cell-culture platforms. Scientists use Nunc Cell Factory Systems with Active Gassing for large-scale manufacturing of cellular therapeutics, stem cells and cells that are difficult to grow.
"The Thermo Scientific Nunc Cell Factory System was the first to enter the disposable bioreactor market, and it provides many advantages, including easy up-scaling, low risk of contamination and reduced lifetime operating costs," said Jill Staggert, product marketing manager, bioproduction, at Thermo Fisher. "We also customize ports and provide pre-assembled tubing configurations to support specific applications, as well as offer a wide range of accessories, including equipment such as shakers, manipulators, incubators, shelf systems, peristaltic pumps, single-use bioreactors and more. Thermo Fisher is dedicated to being the leader in bioproduction processing by offering a full range of complementary production cell culture products."
For more information on the patented Nunc Cell Factory System with Active Gassing, visit http://www.thermoscientific.com/activegassing.
About Thermo Fisher Scientific
Thermo Fisher Scientific Inc. is the world leader in serving science. Our mission is to enable our customers to make the world healthier, cleaner and safer. With revenues of nearly $11 billion, we have approximately 37,000 employees and serve customers within pharmaceutical and biotech companies, hospitals and clinical diagnostic labs, universities, research institutions and government agencies, as well as in environmental and process control industries. We create value for our key stakeholders through two premier brands, Thermo Scientific and Fisher Scientific, which offer a unique combination of continuous technology development and the most convenient purchasing options. Our products and services help accelerate the pace of scientific discovery, and solve analytical challenges ranging from complex research to routine testing to field applications. Visit http://www.thermofisher.com.
###