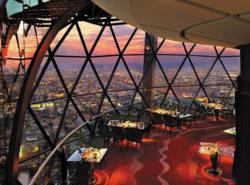 Al Faisaliah Hotel is proud to once again host such a delicious and prestigious gastronomic event.
Riydah, Saudi Arabia (PRWEB) February 02, 2012
Appetites are growing for the Al Faisaliah Globe Summit, the most anticipated annual gastronomic event in the Kingdom, as final preparations begin to bring four world-renowned chefs and their respective signature ingredients to the leading Riyadh luxury hotel. The Al Faisaliah Globe Summit will take place from the 13th to 17th February 2012 in three premium venues located within the five-star Al Faisaliah Hotel, A Rosewood Hotel, owned by the Al Khozama Management Company.
The Grand Chefs, who hail from France, Italy and Mexico, will jet into the Kingdom for five days of sublime gastronomic excellence, taking place in three venues: the international award-winning The Globe restaurant atop the Al Faisaliah Tower, the contemporary La Cucina restaurant in the stylish new Al Faisaliah Hotel South, and The Cristal, the haute dining destination in the Al Faisaliah Hotel North. The Al Faisaliah Globe Summit incorporates a final eight-course fine dining Grand Gala Dinner, a series of inspiring studio lunches, enlightening culinary seminars, an unforgettable brunch and high tea experience, to give diners and food connoisseurs the chance to indulge in some of the most exquisite flavours and delicacies from around the world.
The event will open with a French Business Lunch, created by Chef Michel Portos, holder of two Michelin stars, and attended by the French, Italian and Mexican Dignitaries. Studio lunches during the week will include "Cocina Regional" lunches by Michelin-starred Mexican Executive Chef Carlos Hannon and a "Pasta of Gragnano" lunch created by equally decorated Chef Nino Di Costanzo who will present a menu prepared with the famous organic pasta flown in directly from Italy. The Al Faisaliah Brunch on Friday, 17th February will combine the culinary talents and a spectacular show by all four Grand Chefs participating in this year's Al Faisaliah Globe Summit. In the evenings, the collective gastronomic vision of the Grand Chefs will be showcased in a variety of five-course dinners that will transport diners to the respective home countries of the culinary masters, and will include a Tango Night, Mediterranean-Asian Fusion, Art e Passione and Mexican Avantgarde themes. The eight-course Grand Gala Dinner on Thursday, 16th February at The Globe, is set to be the society event of the year, and will feature the combined efforts of the Grand Chefs and an unforgettable menu that will surprise and delight.
Seminars throughout the week are always quickly sold-out and this year will be no different with exceptional sessions with French Chef Nicholas Blouin sharing his sweet mini-pastry artistry, Chef Carlos Hannon demonstrating his famed tapas and tacos recipes, and Chef Nino Di Costanzo bringing the untold secrets of pasta to the keen audiences in Riyadh.
"Al Faisaliah Hotel is proud to once again host such a delicious and prestigious gastronomic event," said Peter Finamore, Managing Director of Al Faisaliah Hotel, A Rosewood Hotel. "We look forward to welcoming both our longstanding and loyal patrons as well as the many visitors we expect to attend this once-in-lifetime event."
For more information and reservations guests are invited to contact the Al Faisaliah Hotel Reservations Centre on +966 1 273 2222.
Riyadh's most luxurious property opened at Al Faisaliah Hotel in May 2000. In a city that gracefully melds tradition with sophisticated style, Al Faisaliah Hotel defines the ultimate in modern elegance and prestigious location. The stunning hotel boasts the largest column-free banquet and meeting facilities in the Kingdom. With the introduction of dedicated 24-hour butler service, the 330-room and suites property elevated the art of personal service to new levels. Perfectly suited to the discerning business traveler, Al Faisaliah offers spacious accommodations, technologically advanced in-room communications systems, six culinary venues, with La Cucina being the latest addition, a state-of-the-art health club and easy access to world-class shopping.
Al Khozama Management Company (AKMC) was originally founded as the direct property investment and management arm of the King Faisal Foundation. AKMC is a property investment company, based in Riyadh, developing and investing in prime, modern properties and providing property asset management to third party property owners across the Kingdom of Saudi Arabia and the Middle East. AKMC owns Al Faisaliah Hotel and Hotel Al Khozama, and manages Al Shohada Hotel in the holy city of Makkah, as part of a larger portfolio. For more information on AKMC, please visit http://www.akmc.com
Headquartered in Dallas, Texas, Rosewood Hotels & Resorts® manages luxury properties worldwide including Al Faisaliah Hotel and Hotel Al Khozama in Riyadh, Rosewood Corniche in Jeddah, Rosewood Mansion on Turtle Creek® and Rosewood Crescent Hotel® in Dallas, The Carlyle in New York, The Mansion on Peachtree in Atlanta, Rosewood Sand Hill® and CordeValle in California, Rosewood Inn of the Anasazi® in Santa Fe, Las Ventanas al Paraíso, Rosewood Mayakobá and newly opened Rosewood San Miguel de Allende® in Mexico, and a triumvirate of world-class Caribbean properties – Rosewood Little Dix Bay on Virgin Gorda, Caneel Bay on St. John and Jumby Bay on Antigua. Rosewood also offers Sense® spa – featuring treatments reflective of the brand's signature A Sense of Place® philosophy – available exclusively at select properties.
###