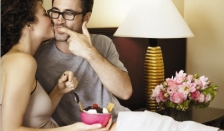 New York, NY (PRWEB) February 01, 2012
This Valentine's Day, Loews Hotels invites guests to "Get a Room" with special rates and tasty treats ideal for a romantic getaway. The Get a Room package from Loews Hotels will be offering accommodations throughout the month of February, along with a special menu of uniquely local nibbles and specialty cocktails created just for the occasion. Get a complimentary coupon and enjoy a consenting adult's libation.

At Loews Miami Beach Hotel, savor a Cupid's Cosmo with Absolut Citron, Chambord, and pomegranate and fresh lime juice, with pomegranate jewels or a lime curl twist.
Loews Ventana Canyon in Tucson is serving up a Love Me Sweet, Love Me Hot cocktail, with jalapeno-infused simple syrup, fresh berries, lime juice and Hornitos Repasado tequila.
Keep things sophisticated in the heart of Manhattan at Loews Regency Hotel New York with a Bubbly Passion fashioned from passion fruit puree, schnapps and Astoria Prosecco.
Loews Coronado Bay in San Diego has the Light My Fire cocktail with Absolut Peppar, chocolate liqueur, Bitter Truth chocolate bitters, and a crimson-colored hot chili garnish to stir things up.
The Get a Room package is priced from $134/double occupancy per night, with spicy bites and two bubbly cocktails included. Available through February 29, 2012.
For more information or to arrange your stay, call 1-800-23-LOEWS or visit http://www.loewshotels.com.
*Offer valid through 2/29/12; subject to availability. Minimum one night stay. Not applicable to Loews Hotels at Universal Orlando (Hard Rock Hotel at Universal Orlando®, Loews Portofino Bay Hotel at Universal Orlando®, Loews Royal Pacific Resort at Universal Orlando®). Offer not applicable to groups, negotiated or third-party rates. Not combinable with any other offers. Not applicable to existing reservations. YouFirst benefits apply.
About Loews Hotels & Resorts
Headquartered in New York City, Loews Hotels &Resorts owns and/or operates 18 hotels and resorts in the U.S. and Canada, including its newest, the 414-room Loews Atlanta Hotel that opened April 1, 2010. Located in major city centers and resort destinations from coast to coast, the Loews portfolio features one-of-a-kind properties that go beyond Four Diamond standards to delight guests with a supremely comfortable, uniquely local and vibrant travel experience. Loews boasts some of the industry's most innovative and successful travel programs, including Loews Loves Kids for families and Loews Loves Pets for discerning animals on the road. For reservations or more information on Loews Hotels, call
1-800-23-LOEWS or check http://www.loewshotels.com.
Like Loews Hotels & Resorts on Facebook: http://www.facebook.com/LoewsHotels
Follow Loews Hotels & Resorts on Twitter: http://www.twitter.com/loews_hotels
Watch Loews Hotels & Resorts on YouTube: http://www.youtube.com/LoewsHotels
Contact:
Loews Hotels
Lark-Marie Anton
(212) 521-2779
lanton(at)loewshotels(dot)com
Hawkins International Public Relations
Emily Easter
(212) 255-6541
emily(at)hawkpr(dot)com
###