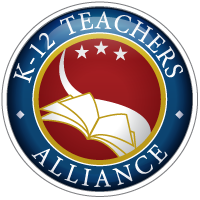 (PRWEB) February 02, 2012
With Oklahoma State University as host, the K-12 Teachers Alliance offered a Common Core State Standards professional development training at no cost to Harding Fine Arts Academy staff.
OSU was an ideal location to bring together KTA, CCSS expert present Judy Stoehr and Oklahoma City educators to collaborate and learn from one another.
In addition to the 27 Harding teachers, educators throughout Oklahoma City were invited to participate in this cutting edge training on the latest development in education standards, implementation and assessment as paid attendees.
Judy Stoehr engaged her audience of 45 educators in a "dynamic, engaging" workshop that provided "several hands-on things we [attendees] can immediately take back and implement in the classroom," according to the teachers in attendance.
Dr. Sherry Rowan, principal of Harding Fine Arts Academy, requested the assistance of KTA through Professional Development Director Jennifer Norton. Dr. Rowan contacted Jennifer after learning of their innovative Host Site Program to help budget-strapped schools and districts provide the highest quality professional development to their staff. In exchange for hosting the workshop, all the Harding staff attended the training for free.
With an eye on the future of education, Dr. Rowan and her staff also took advantage of one of the first comprehensive, beneficial workshops on the newly-approved Common Core State Standards assessment system that will be fully implemented by 2014.
"We contacted the K-12 Alliance to set this up because my teacher and I really felt that we needed to get a jump on understanding and implementing Common Core," Dr. Rowan said. "We want our students to be ready when the time comes."
KTA facilitated communication and promotion of the workshop to benefit educators throughout the area. This outreach afforded other local educators the opportunity to share in this learning experience, but it also gave teachers and administrators a chance to engage with educators outside their own school. It was a tremendous learning opportunity for all.
In the welcoming environment provided by Oklahoma State University, these educators shared instruction ideas, assessment approaches and a fair amount of fun. All in attendance left feeling confident and prepared to face the challenge of reaching Common Core standards moving forward.
Thanks again to Dr. Sherry Rowan, the Harding Fine Arts Academy staff, all attendees and Oklahoma State University for making this workshop a success.
About K-12 Teachers Alliance
To assist educators with this challenge, K-12 Teachers Alliance Professional Development department advisors work individually with schools and districts to assess their professional development needs and provide a solution that works within their budget. Learn more at http://www.k12teachertraining.com/
###