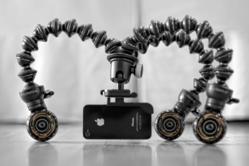 Adorama's iPhone Toolshed offers an exclusive selection of some of the best accessories for picture-taking with the iPhone.
Chelsea, NY (PRWEB) February 02, 2012
Apple's iPhone has become the most ubiquitous camera on Earth, and Adorama aims to make it a better one with its new online iPhoneography shop. Created by the nation's most advanced photo and electronics retailer, the iPhone Toolshed offers an exclusive selection of some of the best accessories for picture-taking with the phenomenal iPhone. Clear, lighthearted explanations of each product's benefits accompany links to the Adorama product page where the item can be purchased—at a price that can't be matched by other dealers.
Products in the iPhone Toolshed include innovative devices that take advantage of the iPhone 4/4S's new ability to shoot high-definition video. Among these are Cineskates, a clever combination of flexible tripod and skateboard wheels that allows the iPhone to shoot rolling, high-definition video clips. Likewise, the Kogeto Dot lets the iPhone capture 360-degree immersive video that can be played back on an iPhone or computer, with finger- or mouse-controlled navigation.
Adorama's hand-picked choices also feature highly practical items for both still photography and video. Belkin's LiveAction Camera Grip, for example, allows the iPhone to be held just like a normal compact camera. (A top-deck shutter button connects electronically to the iPhone through the grip's docking plug.) This ability reduces the risk of a blurred image, which is otherwise high with the iPhone because of the fingertip-grip required by its thin profile.
Then there's the elegant Glif, a simple, form-fitting holder that allows the iPhone to be mounted on a tripod. The Glif doubles as a slip-on stand for more comfortable, angled viewing of photos and video. (FaceTime, too.) And the Olloclip is a tiny optical hub that slips right over the lens corner of an iPhone—endowing the device with wide-angle, fisheye, and close-up optical options.
As more and more accessories for what has come to be called iPhoneography appear in the burgeoning iPhone marketplace, Adorama will add to the iPhone Toolshed, which can be visited at adorama.com/iphonetoolshed. But any new product featured in this online emporium will have to meet a high standard of inventiveness and/or practicality, as evaluated by Adorama's resident experts. First-time visitors to the iPhone Toolshed should be sure to return for a second look—to see what other imaginative devices the iPhone has inspired.
For more information about Adorama's photographic resources, please contact Russell Hart at russellh(at)adorama(dot)com or (212) 741-0052, ext. 2423.
About Adorama: As one of the nation's largest photo retail and mail order suppliers, Adorama has served professional and amateur photographers for 33 years. It has recently expanded its service to the community through online photo education (the Adorama Learning Center and Adorama TV) and on-site workshops, programs that make it a unique industry resource. Adorama's vast product offerings now encompass home entertainment, mobile computing, and professional audio, while its services include an in-house photo lab (AdoramaPix) and pro equipment rental (Adorama Rental Company). Knowledgeable staff and unbeatable pricing make Adorama a one-stop shop for all your photo and technology needs. Visit http://www.adorama.com.
###