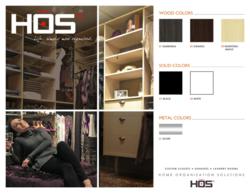 Lewisville, TX (PRWEB) February 03, 2012
Universal Display & Fixtures Company (Universal Display), a leader in innovative in-store retail merchandising displays for 50 years, announces the development of a dynamic organizational system for residential use. The HOS™ (Home Organization Solutions) product line includes closet and garage shelving systems that allow homeowners to de-clutter and streamline living and storage spaces.
Universal Display is proud to announce a strategic alliance with Corn Board Manufacturing, Inc. and the use of CornBoard™ in its HOS™ product line to be manufactured in Lewisville, Texas. CornBoard™ is an environmentally responsible wood replacement product that is made from corn stover that is left in the field as a by-product of the bountiful corn crop that is grown annually in the US. CornBoard™ supplies many of the same characteristics of wood, but is a much more readily renewable material; allowing Universal Display to steadily decrease the amount of non-renewable inputs in its manufacturing process.
Universal Display & Fixtures Company is committed to the environmentally responsible principle of Reduce, Reuse, and Recycle. The Company actively seeks to reduce the amount of landfill waste it generates, limits the amount of water used in its manufacturing processes, recovers and reuses powder used in its powder coating operations, and uses a majority of recycled metal materials in its products. With the use of CornBoard™ in its manufacturing processes, Universal Display is furthering its commitment to stewardship and conservation of natural resources.
As a part of the strategic alliance with Corn Board Manufacturing, Inc., Universal Display will introduce shipping pallets made from CornBoard™ into its supply chain. The agreement establishes CornBoard™ pallets as the preferred pallet option for all of its suppliers and customers. The use of CornBoard™ pallets for shipping is yet another major step to reduce the dependence on less renewable materials in the supply chain.
About Universal Display & Fixtures Company
Celebrating its 50th Anniversary in business, Universal Display & Fixtures Company is a leader in the retail and merchandising display industry. Our commitment to creating and delivering the most effective solutions for our customers by designing and manufacturing displays and fixtures that build and expand brands at the retail level and point of sale has resulted in 11 Outstanding Merchandising Awards from the Global Association for Marketing at Retail (POPAI). We have been twice named Supplier of the Year by Frito-Lay, and have been awarded two Design of the Times Awards for Frito-Lay and Gatorade merchandising programs.
Universal Display & Fixture Company is a privately held Minority Business Enterprise (MBE) with primary manufacturing and logistics operations located in Lewisville and Coppell Texas. With 2 campuses and over 100 employees in the North DFW Metroplex, Universal Display is a large and active member of the north Metroplex economy and community. We are proud of our team and work daily to apply our collective talents and skills to delivering the best products and most productive experiences for all of our customers.
About CornBoard™
CornBoard™ is produced by Corn Board Manufacturing, Inc. (CBMI). CBMI utilizes an exclusive patented process licensed from the University of Illinois to turn corn stover biomass that is left in the field after corn is harvested into CornBoard™. CornBoard™ is a wood replacement material that has thousands of potential uses in consumer and industrial products.
CBMI is committed to being an environmentally responsible company that provides jobs and opportunities throughout rural America through the production of CornBoard™.
# # #