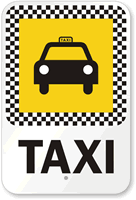 "These taxi signs are great tools for keeping cab lanes clear and creating a more inviting environment," said Daniel Male, Manager of MyParkingSign.com.
Brooklyn, NY (PRWEB) February 02, 2012
MyParkingSign.com, an online supplier of parking and traffic signs, has announced a new product line of Taxi Signs specifically for areas where taxis park and pick people up. These long-lasting signs will make a huge difference in reducing traffic congestion.
Taxis were built for convenience, and therefore taxi stand areas should also facilitate easy parking and picking up. "Hailing a cab and parking them requires some strategic maneuvering," said Daniel Male, Manager of MyParkingSign.com. "These taxi signs are great tools for keeping cab lanes clear and creating a more inviting environment." Taxi services and businesses should find these signs highly useful.
MyParkingSign offers bright Taxi Parking Signs that are meant to be seen day or night. Slogans will read "No Parking: Taxi Stand" or "Taxi Lane." Other signs feature "Taxi and Limousine Parking Only" and "Tow Zone: Taxi Stand." In addition, one of the most popular options is Taxi Checkerboard Signs. These signs have checkerboard borders and bright yellow-and-black text to match the taxi cab.
In addition, Taxi signs are meant to last. These signs are printed on thick aluminum that stays strong through weather and abrasion. The resiliency of these items is unquestionable, since the signs on MyParkingSign are meant to last for at least ten years. To top it all off, if customers can't find the sign that they want, they can create their own with customizable templates. Enter in text, choose artwork, or upload personal art and create a custom sign in less than ten minutes.
These Taxi Parking Signs are highly useful additions on MyParkingSign. For more information, visit http://www.myparkingsign.com/Parking-Signs/Taxi-Parking-Signs.aspx
About MyParkingSign.com
MyParkingSign is the largest online distributor of parking and traffic signs. Find over 3,000 different parking signs in stock as well as labels and accessories. Customers can create their own signs using convenient customization wizards.
About SmartSign
SmartSign is one of America's fastest growing e-commerce companies and parent of http://www.MySafetySign.com, http://www.MyParkingSign.com, as well as over 50 other sites.
Traditionally, signs with the right message have been hard-to-find, hard-to-design and hard-to-order. By positioning "Signs as Solutions," SmartSign has taken an entirely different approach. Through highly targeted, yet content-rich and authoritative sites, the company provides specific solutions to specific problems – such as keeping your Parking Lot safe and manageable. "We take the agony out of finding and ordering your perfect sign" – Blair Brewster, SmartSign founder. Couple this with fast and free shipping, 3M warrantied signs that outlast fast-fading ink jet signs from competitors, the web's largest range of designs and a best price guarantee, it is easy to see why SmartSign has grown so quickly.
###