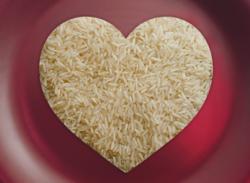 ARLINGTON, VA (PRWEB) February 01, 2012
Show your heart some love this month with U.S.-grown rice. February is American Heart Month and USA Rice Federation wants to support your healthy lifestyle with nurturing meals that are good for the heart and body. Adding rice to your plate delivers heart health benefits and long-lasting fuel for workouts.
U.S.-grown rice, which is nutrient rich, is also a heart-friendly food to enjoy. It is low in calories, has just a trace of fat, and contains no cholesterol, sodium, saturated or trans fats. Rice partners well with other heart-healthy foods, such as beans, seafood, vegetables and fruits. Rice fits with the U.S. Dietary Guidelines for Americans/MyPlate grains recommendations for 6 one-ounce servings of grains daily, with half the servings coming from whole grains, such as brown rice, and the other half from whole or enriched grains like enriched, fortified white rice.
Studies show the science behind heart-healthy rice. Brown rice is a 100 percent whole grain food, while white rice is enriched in B vitamins and fortified with folic acid, which has been shown in studies to help maintain a healthy heart. According to the U.S. Food and Drug Administration (FDA) diets rich in whole grain foods, such as brown rice and other plant foods, and low in total fat, saturated fat and cholesterol, may help reduce the risk of heart disease and certain cancers. Furthermore, the American Heart Association reports evidence that low blood levels of folic acid are linked with a higher risk of fatal coronary heart disease and stroke. One cup of cooked enriched white rice delivers 23 percent of the recommended daily value for folic acid.
The DASH (Dietary Approaches to Stop Hypertension) diet focuses on food rather than medicine to help lower blood pressure. According to "Your Guide to Lowering Your Blood Pressure With DASH" developed by the National Institutes of Health, eating at least 6-8 servings daily of whole grains, such as brown and wild rice, may help control blood pressure.
Recent research published in the Journal of the American Dietetic Association and Nutrition Today show that eating enriched white and whole grain brown rice helps improve overall diet and potentially reduces the risk for many chronic diseases. Compared with non-rice eaters, rice eaters are less likely to have risk factors associated with cardiovascular disease, type 2 diabetes, and metabolic syndrome; they are more likely to have an overall better diet quality. Individuals who eat rice also eat more vegetables, meats, poultry, seafood and fiber, while consuming less added sugar and less total fat and saturated fat than non-rice eaters, all important factors for cardioprotection.
To show your heart some TLC, try adding rice to meals and snacks to improve overall heart health. Try these terrific heartwarming meals and side dishes, loaded with heart-healthy omega-3s, folic acid and whole grains, and made with rice – and at only 10 cents per serving, rice is a smart, affordable choice for heart-healthy eating.
For more recipes and tips on rice preparation and storage, visit http://www.usarice.com/consumer
Teriyaki Salmon with Gingered Vegetable Rice
Orange Chicken Vegetable Rice Bowl
The USA Rice Federation is the global advocate for all segments of the U.S. rice industry with a mission to promote and protect the interests of producers, millers, merchants and allied businesses. About 85 percent of the rice consumed in the U.S. is grown here. U.S. rice farmers produce an abundance of short-, medium-, and long-grain rice, as well as organic and specialty rices such as jasmine, basmati and Arborio, in Arkansas, California, Louisiana, Mississippi, Missouri and Texas, according to the highest-quality and wholesomeness standards. Sustainably grown U.S. rice helps to reduce your food miles because it is a domestically grown product. Look for the "Grown in the USA" logo on packages of 100-percent U.S.-grown rice. Be sure to visit usarice.com, find us on Facebook or follow us on Twitter.
# # #