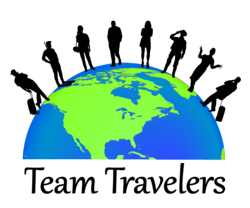 Solo Travelers Team Up Locally, Travel Globally
York, Maine (PRWEB) February 09, 2012
Travel Experts of York, a York Maine travel agency, announces the creation and launch of Team Travelers and the corresponding TEAM (Traveler's Extraordinary Advantages Membership) membership program. Team Travelers is a localized network of solo travelers in New England, exploring the world with liked-minded people, regardless of their relationship status.
Team Travelers is not about meeting "soul-mates" or catering to singles. It is the perfect program if traveling alone doesn't sound appealing, you want to meet like-minded people with which to travel, small groups of 8-20 travelers sounds just perfect, you live in New England and you're 21 or older.
Team Travelers makes it a point to work with travel companies and products that have eco-responsibility at the core of their business and Archambault also promotes practicing random acts of sustainability no matter where your travels take you.
She says, "I like to promote green travel to venues that support sustainable travel standards. We choose socially responsible suppliers and hope to offset our carbon footprint. Don't leave your values at home; just leave your valuables!"
Team Travelers officially launched on February 1, 2012 - the 15th anniversary of Archambault's travel business and her 11th anniversary as a Virtuoso ® travel advisor (through her affiliation with Travel Experts, Inc.).
Each week, starting February 1, Archambault publishes the Team Travelers' short informative newsletter and blog. In it, will be travel information, tips, advice, and products.
Some of the Team trips that will be featured are:

Mardi Gras in Ogunquit, Maine
Skiing and Water Park weekend at Jay Peak Resort in Vermont
Golfing, fishing and more at the Cabin Bluff Resort in Georgia
An Italy land package followed by a Silversea cruise
Those interested in gaining access to more information about Team Travelers can subscribe to the blog or newsletter. When you sign up to receive the newsletter you'll get "10 Secrets to Avoid Losing Your Luggage," with helpful hints to help you avoid a real travel hassle.
About Team Travelers
Team Travelers was founded in 2012 and creates localized networks of travelers who would travel more if they had suitable travel companions. Whether single or married, solo travelers can team-up in small groups of like-minded people from their own area to fulfill their travel wish lists and benefit from the extraordinary level of service, information and resources of Team Travelers. Participants are encouraged to not only care for each other, but for the land and people they visit during their journeys, and to favor the use of socially responsible suppliers. For more information, contact Team Travelers through their website or by calling 207-351-1181.
# # #