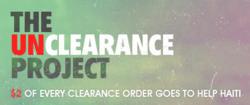 Madison Heights, MI (PRWEB) February 16, 2012
This time of year all of us are bombarded with predictable 72-hour-sales, ridiculously deep discounts and thoughtless email blasts. This is the new normal and Moosejaw hates it.
Moosejaw, the outdoor retailer, is changing the way we think about discounts. Moosejaw just launched The UnClearance Project, a charity-driven campaign that donates a portion of clearance orders.
"Clearance season is a necessary evil of retailing," said Eoin Comerford, Moosejaw's SVP of Marketing & Technology. "So we challenged ourselves to turn this necessary evil into an unexpected good."
Two dollars of every clearance order at Moosejaw goes to Saint Damien Pediatric Hospital, Haiti's only free children's hospital. The great news is that it's working. In the first 2 weeks the project has already raised over $15,000.
"The UnClearance Project is something Moosejaw customers are getting behind it. They are changing the culture of clearance and doing some good," says Creative Director Gary Wohlfeill.
Even two years after Haiti's devastating earthquake, the region is still in need of major assistance. Moosejaw partnered with Friends of the Orphans, an organization that works closely with the Saint Damien's, to match every dollar of Moosejaw's $25,000 goal.
At Moosejaw we sell the best outdoor gear gear and apparel in the world and have the most fun possible while doing it. Our goal is to engage customers with our unique brand voice and a little youthful enthusiasm. We call it Moosejaw madness. Moosejaw offers products from The North Face, Arc'teryx, Patagonia, Mountain Hardwear, and Black Diamond as well as under its own Moosejaw brand. The company serves a diverse customer base including serious outdoor enthusiasts, active individuals pursuing an outdoor lifestyle, and high school and college students who are passionate about the Moosejaw brand. Moosejaw operates through Moosejaw.com as well as seven retail stores.
# # #