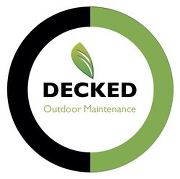 ...fair, reliable, and ethical.
Round Rock, Texas (PRWEB) February 03, 2012
Roger Drye, CEO of Decked, LLC today announced the launch of a new Round Rock service company that specializes in building and maintaining great outdoor living environments for its residential and commercial customers.
"Decked is unique in its approach to outdoor maintenance and its customers. We offer a great selection of outdoor maintenance services, everything from lawn mowing, deck refinishing, to full-service pool cleaning. We aren't looking to be everything to everyone - but we do want to be everything to 'our' customers. I live, work, and play in the neighborhoods we service. My kids go to school and my family goes to church here. Our customers know they are working a company that is fair, reliable, and ethical."
Decked, LLC is 100% veteran-owned and is active in supporting the Texas veteran community. Roger Drye, CEO of Decked, was commissioned as an "Admiral in the Texas Navy" by Governor Rick Perry in 2010, and serves on the Board of Directors and Treasurer of the Texas Navy Association. He is also an active member of the Veterans of Foreign Wars and the Navy League.
Decked's customers can select from a variety of service offerings in Round Rock, including:
Lawn and Landscaping
Deck, Fence, and Shed Maintenance
Chemical and Full-Service Pool Cleaning
In 2012, Decked intends to focus its service areas in the Brushy Creek and Round Rock neighborhoods of:
Cat Hollow
Oakbrook
Fern Bluff
Stone Canyon
Avery Ranch
You can learn more about Decked by visiting http://www.decked.com or calling (682) 233-2533. Decked offers free, no obligation estimates in its service area.
###