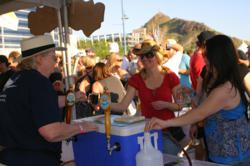 Tempe is an ideal vacation destination for those looking to escape the cold for a few days and enjoy spring temperatures.
Tempe, AZ (PRWEB) February 03, 2012
This spring, escape the winter cold with a visit to sunny Tempe, Arizona. The Tempe Tourism Office can provide information about where to stay and what to do, including insider tips about the best shopping, dining and attractions in the area.
Centrally located in Metropolitan Phoenix, Tempe is an ideal vacation destination for those looking to take a break from the cold for a few days and enjoy spring temperatures. It is the perfect time to check out favorite baseball teams during Cactus League Spring Training and enjoy festivals, theatre, art and everything that Tempe has to offer.
Broadway Shows at ASU Gammage
Designed by renowned architect Frank Lloyd Wright, ASU Gammage is among the largest university-based presenters of the performing arts in the world and is host to one of the most successful Broadway series in the country, the PROGRESSIVE® Broadway Across America – Arizona season and special engagements. Tickets start under $30 for some of the hottest shows, straight from Broadway. Upcoming spring shows include WICKED, February 15-March 11 and GREEN DAY'S AMERICAN IDIOT, April 24-29.
Cactus League Spring Training
Get a preview of the 2012 MLB season during Cactus League Spring Training in Arizona. The 2011 spring training season set an all-time attendance record and 2012 is expected to be even more exciting for fans. The Cactus League is home to 15 major league teams, including the Los Angeles Angels of Anaheim who play at Tempe Diablo Stadium. From March 2 through April 4, fans can take their pick from more than 200 games at 10 stadiums in the Phoenix metro area. Tickets start at just $10, making this a fun, affordable activity for the whole family.
Great Arizona Beer Festival
Beer enthusiasts will not want to miss the Great Arizona Beer Festival in Tempe. With over 200 craft brews from more than 50 breweries, the Great Arizona Beer Festival is the largest beer festival in the Southwest. This year the 24th annual festival will be held on Saturday, March 3 at Tempe Beach Park. Tickets are $45 in advance and $50 at the gate for general admission, including up to 24 different beer samples, or $85 in advance and $90 at the gate for VIP admission. All guests must be 21 or over to enter.
Tempe Festival of the Arts
With over 400 artist booths, it's easy to see why the Tempe Festival of the Arts is consistently ranked as one of the top 20 art festivals in the country each year. This free festival takes place from March 30-April 1 and features unique handmade artwork such as photography, ceramics and woodwork. Live music, activities for children and performances create a street fair type atmosphere that is fun for the whole family. In addition to great artwork and entertainment, wine tasting is also available at the Arizona Wine Festival and sampling of local craft beer is available at the Art of Beer. Beers and wine will be available for sale by the bottle or case.
Arizona Dragon Boat Festival
Tempe Town Lake will host the 9th annual Arizona Dragon Boat Festival March 31 - April 1. The competitive races feature teams of up to 20 paddlers from all over the world. The boats are decorated with beautiful designs and a dragon caricature on the tip of the bow. This unique festival is a great way to experience Asian culture. In addition to the races, entertainment will include dancing, martial arts demonstrations, Japanese drumming and lots of food and fun for the whole family.
My Nana's Best Tasting Salsa Challenge
Looking for something spicy? Then check out My Nana's Best Tasting Salsa Challenge April 28 at Tempe Beach Park. Attendees can sample more than 100 salsas made by amateur and professional chefs and vote for favorites. At a separate competition within the event, bartenders compete to win the judge's vote for the best margarita during the Cazadores Margarita Mix-Off. For kids, there is a Funzone with bounce houses, laser tag and other activities. Admission is free for children under twelve and $10 dollars for adults. Proceeds benefit the Arizona Hemophilia Association.
About Tempe Tourism Office
The Tempe Tourism Office is a non-profit organization devoted to marketing Tempe, Arizona as a desirable visitor and group destination site. The Tempe Tourism Office's mission is to provide visitors, media professionals and meeting planners with information on Tempe hotels, Tempe restaurants, Tempe entertainment and local points of interest. To learn more about Tempe, Arizona please call 480-894-8158 or 800-283-6734 or visit http://www.TempeTourism.com.
###