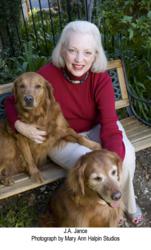 (PRWEB) February 02, 2012
The St. Louis County Library Foundation and Left Bank Books are pleased to present acclaimed crime fiction author J.A. Jance for a discussion and signing of her latest thriller "Left for Dead" on Monday, February 27, at 7:00 p.m. at Library Headquarters, 1640 S. Lindbergh Blvd.
The program is free and open to the public. Books will be available for purchase at the event from Left Bank Books.
In her latest bestselling thriller, J.A. Jance's most popular character, the feisty Ali Reynolds, investigates two shocking cases of victims brutally left for dead. When Santa Cruz County deputy sheriff Jose Reyes, Ali's classmate from the Arizona Police Academy, is gunned down and left to die, he is at first assumed to be an innocent victim of the drug wars escalating across the border. But the crime scene investigation shows there's much more to it than that, and soon he and his pregnant wife, Teresa, both fall under suspicion of wrongdoing.
Knowing Reyes as well as she does, Ali finds it hard to believe that he's become mixed up in the drug trade. Upon arriving at the hospital, Ali finds that her good friend, Sister Anselm, is there, too—working as a patient advocate on behalf of another seriously injured victim, an unidentified young woman presumed to be an illegal border crosser, who was raped and savagely beaten.
Ali becomes determined to seek justice in both cases. Together with Sister Anselm and a conscientious officer who won't let the cases drop despite pressure from above, Ali digs for clues to find the true culprits. Fast-paced, tension-filled, and intriguingly complex, "Left for Dead" is J.A. Jance at her riveting best.
J.A. Jance is the New York Times bestselling author of the Ali Reynolds series, the J.P. Beaumont series, the Joanna Brady series, and four interrelated Southwestern thrillers featuring the Walker family.
Program sites are accessible. Upon two weeks notice, accommodations will be made
for persons with disabilities. Contact St. Louis County Library by phone 314-994-3300 or visit http://www.slcl.org.
###