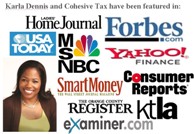 "Karla Dennis is one fine lady. To achieve what she has created with Cohesive, her exponentially growing tax strategies firm, is truly amazing. It is nothing short of phenomenal" - Loral Langemeier
(PRWEB) February 01, 2012
This is an announcement of a webinar to be given by foremost tax expert Karla Dennis of Cohesive Tax.
Join her for a web conference that is presented by request of Loral Langemeier "The Millionaire Maker" about that topic everyone is thinking about right now: Filing taxes.
What this means for anyone who attends:
Karla has noticed that at around this time, she is getting a lot of the same questions about what to do before filing taxes for this past year. She will be answering those questions by giving out the tips that will help anyone preparing to file their taxes.
So if you haven't joined the free webinar coming up Thursday, February the 2nd at 12 noon, click the link below to read all about it, and sign up to join if you haven't already.
Click Here To Register For The Webinar
From Cohesive Tax™
###