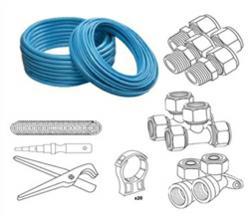 Compressed Air Pipe installation has never been easier.
Saint Louis, MO (PRWEB) February 03, 2012
Duratec® Air-Line is a new innovative compressed air piping product that uniquely combines all of the benefits of plastic and metal in one pipe. Duratec® Air-Line a lightweight, clean, non-corroding compressed air and inert gas distribution system.
E-Compressor offers starter kits for the DIY market that include all fittings, pipe, tools, and phone support during installation. Home air compressor installation has never been easier. A complete overview of the product line with technical details can be seen at http://www.e-compressor.com
Features:

Duratec® will not scale, pit or corrode like metal pipe.
Long coil lengths of 100 ft and 300 ft give flexibility of design and eliminate joints common in stick piping.
Easily Ships UPS. Conventional Pipe cannot ship UPS.
Pipe is flexible and can be easily bent by hand.
Pipe and fittings can be disassembled and reused as needs change over time.
The pipe is very lightweight. 100 ft of 3/4" Duratec Airline pipe weighs 14 lbs.
Duratec is manufactured in four sizes from 3/8" through 1" and handle 200 psi at 73°F and 160 psi at 140°F.
Founded by a family involved in industrial compression equipment, E-Compressor,LLC is the largest online Air Compressor store dedicated to the world wide small horsepower air compressor market. Excellent customer service and a diverse compressed air product line separates E-Compressor from competitive websites. More information is available on our website at http://www.e-compressor.com
E-Compressor and it's logo are either registered trademarks or trademarks of E-Compressor LLC in the United States and/or other countries. The names of actual companies and products mentioned herein may be the trademarks of their respective owners.
For more information, press only: Patrick Hertel, pat(at)e-compressor(dot)com
For more information on E-Compressor: http://www.e-compressor.com
###