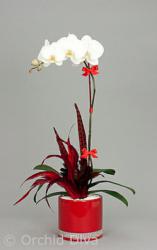 Delicate, exotic and graceful Orchids have represented love, luxury and beauty for centuries
New York, NY (PRWEB) February 02, 2012
Newly launched online Orchid shop, orchiddiva.com, announces the launch of a fresh line specifically designed for Valentine's Day. These Valentine's Day flowers in NYC offer the giver the chance to give the gift in a living plant, rather than a bouquet that will wilt in just a few days. Orchid Diva is the work of fashion model and floral designer Juliette Vassilkioti, someone who has a true eye for modern beauty.
Originally from Russia, Orchid Diva Juliette developed a love for beauty and grace through studying the culture and art prevalent in St. Petersburg. When she moved to New York, she embraced that passion through a career in fashion modeling. Now, Juliette harnesses that same love of beauty to create one-of-a-kind designs using living, blooming Orchids. About her work, Juliette says, "I am today very much like a fashion designer, except instead of using fabric my main material is the magnificent Orchid plant."
With Valentine's Day being one of the most romantic holidays of the year, high expectations are placed on those seeking Valentine's Day gifts in NYC. Recipients expect something that shows some thought and effort. Roses are traditional for flower delivery in NYC, but Juliette and her team at Orchid Diva believe they are overdone.
"Anyone can give the gift of a bouquet of cut roses, and they can be found in every store selling Valentine's Day gifts in NYC." she said. "A living plant, like one of our Orchid arrangements for Valentine's Day, shows the enduring nature of your love. This is why they are the best alternative to traditional flower arrangements, especially for those looking for something that goes beyond the more common gift ideas."
Roses are often used because they are believed to carry a message of love, but Orchids do the same thing. According to the Orchid Diva herself, "Delicate, exotic and graceful Orchids have represented love, luxury and beauty for centuries." By giving the gift of a delicate Orchid, the giver still embraces a symbol of love, without resorting to a gift that has been given a few too many times. After all, according to Orchid Diva, "You can buy roses at a gas station, but an Orchid shows you put some time and effort into choosing the perfect gift."
Orchid Diva makes giving Valentine's Day flowers in NYC simple by offering affordable same-day delivery. Orders placed before 12 pm are delivered the same day, while orders placed after 12 pm are delivered the next day. There is a small fee for flower delivery in NYC.
For Valentine's Day, Orchid Diva created four specific new designs, two in white and two in fuchsia. Additional touches, like sparkling peacock feathers in the Passion design and scarlet ribbons complimented by red feathers in the Love design, make these elegant Orchid arrangements stand out. In addition to the four newly launched Orchid arrangements for Valentine's Day, Orchid Diva offers customized designs for those looking for something unique.
"We want to encourage people to put in their orders early," urged Juliette. "We expect a high demand during this popular gift-giving season, and because these are live plants we may run out. The only way to ensure the availability of the design you want is to order early."
Orchid Diva makes ordering these Valentine's Day flowers in NYC simple through an online ordering system. This means gift buyers do not have to spend time searching for a shop or visiting a storefront. They can browse the current collection and make their order all from the comfort of home. Online ordering makes ordering from out of state possible as well. Those who order before February 12 can use an online code found at orchiddiva.com to receive a 15 percent discount.
To browse the newly launched Valentine's Day collection for yourself or to make your order before they sell out, visit orchiddiva.com. With the help of the Orchid Diva's same-day delivery service throughout New York, you can send unforgettable Valentine's Day flowers in NYC, all without leaving home.
###