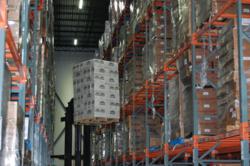 Sacramento, CA (PRWEB) February 16, 2012
SmartWatt Energy, a leading nationwide provider of energy-efficiency solutions for cold storage facilities, will be hosting a complimentary webinar on Monday, March 12, 2012 at 3:00 PM E.S.T., entitled "LEDs in Cold Storage."
This informative webinar will present cold storage facility personnel with the knowledge they need to decide if LED lighting is right for their facility. It will detail the benefits of LED lighting systems, what to look for when choosing a type of LED fixture, the benefits of adding control systems across one or multiple facilities, and what savings can be expected.
The webinar will be presented by SmartWatt Energy's Vice President of West Coast Operations, Ben Stewart. He has extensive experience working with the company's regional and national cold storage accounts, having overseen the design and engineering of SmartLighting LED projects throughout the Western United States. For more information, or to register, contact Kelsey Cummings at kcummings(at)smartwattinc(dot)com.
ABOUT SMARTWATT ENERGY, INC.
SmartWatt Energy, Inc., is a leading nationwide provider of turnkey energy-efficiency solutions. SmartWatt Energy is dedicated to lowering businesses' operational costs through energy-reduction strategies. SmartWatt Energy provides whole building energy assessments and implements lighting retrofits, VFD upgrades, control system enhancements, ECM upgrades, smart meter installations, and more to help commercial, industrial, government and utility customers meet their sustainability goals. SmartWatt Energy's energy-efficiency services include construction-grade energy audits, value-engineered designs, self-performed installations, utility incentive procurement, facilitation of EPAct 2005 tax deductions and maintenance support. For more information, visit http://www.smartwattinc.com.
###